Subsections:
From the first I heard about the fatal shooting of Halyna Hutchins on the Rust movie set, I suspected that the gun Alec Baldwin was holding in the "church pew" discharged on its own as he was practicing the "cross-body move" he was supposed to make with it. Many news accounts were pretty sketchy on whether he pulled the trigger or intended to pull the trigger.
In an interview to be broadcast on ABC with George Stephanopoulos, Baldwin gives his first detailed interview on the shooting.
Asked .... how a real bullet got on the "Rust" set, Alec Baldwin says: "I have no idea. Someone put a live bullet in a gun. A bullet that wasn't even supposed to be on the property."
He also says the scene he was practicing didn't call for the shooting of the weapon. There would be no reason for him to practice shooting with it, and he would never point a gun at someone and pull the trigger.
There is new evidence in the case. Yesterday, the Santa Fe Sheriff's Office executed its fourth search warrant, this time on the business of Seth Kenney, who supplied the ammunition for the movie. You can read the Affidavit for the warrant here. [More...]
(28 comments, 1424 words in story) There's More :: Permalink :: Comments
CNN has suspended Chris Cuomo indefinitely, after a report was released this week with thousands of pages from the NYS Attorney General's investigation of sexual harrassment allegations against his brother, Former Gov. Andrew Cuomo. CNN released a statement saying it had given him a pass in August when the topic came up, but after the documents were released, it appears he had a greater role advising his brother than previously dislosed.
Chris' 348 page deposition is here. I'm on page 131 and haven't found anything objectionable yet.
I like watching Chris Cuomo. He's comfortable, like a favorite pair of slippers. He's polite to his guests, and he wears his feelings on his sleeve. He doesn't sound phony. Why wouldn't he give his brother the benefit of his thoughts? [More...]
(8 comments, 244 words in story) There's More :: Permalink :: Comments
The Emmys Awards are on. There is something very different about this year's production. It is so scaled down, and many of the nominees are celebrating and appearing from London.
I'm watching on my desktop and there seems to be a time delay of a few seconds during which you get to see the exact moment the nominee hears their name and their entire expression changes. I like that.
The London room seems like an intimate bar, with just a handful or two of tables. It's a more intimate setting than even the Golden Globes.
So far, the awards are going to a handful of shows like The Crown, Ted Lasso, The Handsmaid's Tale, Pose, Ted Lasso to name a few.[More...]
(46 comments, 261 words in story) There's More :: Permalink :: Comments
Wow. Just wow. Bob Dylan is 80 years old.
Happy birthday Bob Dylan. I know all the readers here will join me in wishing him many, many more.
His work is too extensive for me to pick a favorite. But I'll go with the one that has been the tagline for Talkleft's front page (bottom middle right column)for 19 years: Subterranean Homesick Blues.
The pump don't work cause the vandals took the handles
More...
(7 comments, 230 words in story) There's More :: Permalink :: Comments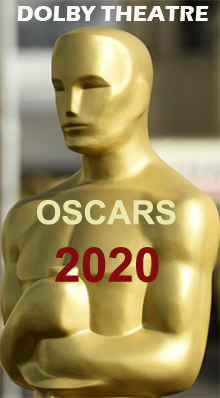 Update: Parasite is the night's big winner, four awards, including best picture, best director, best international feature and one other. I'm looking foward to watching it.
Random quiz: Which male actor has been nominated the most in the Academy's 92 year history? Jack Nicholson with 12 nominations (Laurence Olivier only had ten). He's tied with Katherine Hepburn. And the most nominated actor/acress of all time? Meryl Streep with 21 nominations. [More...]
(42 comments, 166 words in story) There's More :: Permalink :: Comments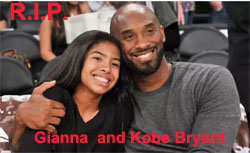 Really shocking and sad news today that basketball legend Kobe Bryant, age 41, and his 13 year old daughter Gianna, as well as a teammate of Gianna's and her parent, a pilot, a baseball coach for a community college and others were killed in a helicopter crash today in Los Angeles. The New York Times has updates here.
You don't have to be a basketball fan to be stunned and saddened by this news. Heartfelt condolences to his wife Vanessa and their other children, Kobe's parents, former teammates, Gianna's friends and teammates and everyone who felt a special connection to them. As well as to the families of the pilot and other passengers on the plane.
May they all Rest in Peace. [More...]
(6 comments, 144 words in story) There's More :: Permalink :: Comments
Congratulations to Sir Rod Stewart for becoming the oldest male solo artis to have a number one album in the UK. He is about to turn 75. Who had the distinction until now? Paul Simon.
Sir Rod, who is 74 years and 11 months old, has taken the accolade from American singer Paul Simon. He beat Simon by three months, the Official Charts Company said.
[More...]
(106 comments, 482 words in story) There's More :: Permalink :: Comments
I have liked Shepard Smith and his reporting since the mid-nineties when I used to appear on Fox News shows he hosted. I always found him "fair and balanced." The last time I saw him was in 2007 at the bar in the Des Moines hotel where the media (from every network) as well as the Clintons and a few bloggers were staying during the primaries. Whenever I channel surf on Sirius in the car, if he's on, I listen to his show. Between the hint of his southern drawl and the stories he chooses to focus on, I'm never disappointed.
Yesterday, he unexpectedly ended his show with the news it would be his last show. He asked to be let of his contract, and after some negotiating (which likely cost him millions), Fox agreed.
Due to a non-compete clause in his contract, we won't be seeing him reporting anywhere else for a while. That's too bad, as I really enjoy listening to him. But hopefully he'll be back as soon as he can.
Good Luck, Shep, in whatever venture you choose next.
(6 comments) Permalink :: Comments
We already have a debate thread up, so I'm moving on to other TV topics. The Bachelorette's ratings have been gold this season and last's night first half of the finale reached 7.1 million viewers. Telemundo is really happy with the ratings for La Reina del Sur, which had its finale last night. In fact, Telemundo has crowned the show the Queen of Primetime.
I loved this season of La Reina del Sur and watched every one of the 60 episodes, most of them twice. There were so many plot twists, many of which I did not see coming, and the action was non-stop. Kate del Castillo and the entire cast went all in -- terrific performances by all. The only thing I didn't care for was the ending. It was a cliff-hanger. Considering it took 8 years to film the second season, does this mean we have to wait to 2027 for the next one? [More...]
(161 comments, 842 words in story) There's More :: Permalink :: Comments
Bump and Update: (6/26/19, 10:52 a.m. M.T)
RIP Beth Chapman, and our deepest condolences to Duane ("Dog the Bounty Hunter") and their family. There really aren't enough positive adjectives in the dictionary to describe this incredibly unique, forceful, talented, loyal, generous, beautiful, protective and socially committed woman. This is a huge loss. To her family: I hope the memories of your good times together get you through this difficult time.
From Dog's twitter feed an hour ago:
Itís 5:32 in Hawaii, this is the time she would wake up to go hike Koko Head mountain. Only today, she hiked the stairway to heaven. We all love you, Beth. See you on the other side.
More....
(7 comments, 293 words in story) There's More :: Permalink :: Comments
The Grammy's won't be live on CBS for another hour or so, but you can watch what's happened so far at the Grammy site here. The Red Carpet pix are up there as well. Expect a big commotion when Korea's uber-popular boy bandBTS presents. They are the first Korean group to be nominated for a Grammy and to present an award. Here's some good photos of them.
Alicia Keys is hosting. I will miss James Corden, who hosted the show the past two years.
Here is the New York Times "cheat sheet" . The Staple Center has a lot of photos here.
(16 comments) Permalink :: Comments