Update: Big Tent Democrat is staying put in the Palm Beach area because his parents won't leave. Follow him on Twitter here -- good photos.
Palm Beach is under a mandatory evacuation order. Hurricane Matthew is expected to be a Category 4 storm before touching down in Florida Thursday night. Right now it's over the Bahamas. (Warning: Auto-play video, it's unavoidable everywhere.) Matthew may also loop back and hit Florida a second time, after heading to the Carolinas. Miami and Broward are in the direct path. Even central Florida (Orlando and Tampa) aren't safe.
The latest update (#32) from the National Hurricane Center: [More...]
(20 comments, 209 words in story) There's More :: Permalink :: Comments
The four day trial over Jesse Trentadue's attempt to obtain additional Oklahoma City Bombing videos has ended. The judge reserved ruling.
The FBI presented witnesses today to say the tapes never existed, which was an 11th hour claim. Up until the last few weeks, its defense had been they couldn't find any such tapes.
Oklahoma trooper Charlie Hangar, who arrested Timothy McVeigh, testified his videocam didn't start recording until McVeigh was in the back seat. Trentadue says reports show another version of Hangar's tape exists that shows cars passing by, including a brown pickup truck that belonged to an acquaintance of McVeigh's.
Another FBI witness testified the report about an FBI agent who tried to sell a tape showing McVeigh and John Doe #2 at the Murrah building to CBS and Dateline was a hoax.
[More...]
(459 words in story) There's More :: Permalink :: Comments
Utah attorney Jesse Trentadue has been fighting for years to obtain videos referenced in Secret Service and FBI timelines of the Oklahoma City Bombing investigation. Trial in his FOIA lawsuit (see IntelFiles case page for background) begins tomorrow in federal court in Utah. Trentadue's brother Kenneth died in an Oklahoma detention facility in 1995. The government claimed his death was a suicide. Jesse says the condition of his brother's body shows it was murder.
On Monday, a three-day trial is scheduled to begin in U.S. District Court in Salt Lake City on a lawsuit by lawyer Jesse Trentadue. He filed a request under the Freedom of Information Act (FOIA) seeking documents and videotapes from the bombing investigation — including one tape he believes shows two suspects exiting a Ryder truck parked in front of the Alfred P. Murrah Federal Building and the detonation of explosives in the vehicle.
[More...]
(8 comments, 1321 words in story) There's More :: Permalink :: Comments
Here's the flooding of the Battery Tunnel earlier today. Lower New York is flooded. There are three feet of water on the trading floor of the New York Stock Exchange. [Added: Reports now say that is false.] There was an explosion at a Con Ed plant in lower Manhattan.
What's happening at MCC New York, on Foley Square, and MDC Brooklyn, New York's federal detention centers? [More...]
(7 comments, 348 words in story) There's More :: Permalink :: Comments
Update: 13 dead, 5 million without power.
The National Hurricane Center has downgraded Sandy from a hurricane to a post-tropical storm. The eye has just made landfall in Southern New Jersey.
Con Ed has cut power to all of lower Manhattan. More than 600,00 are without power in NYC, Westchester, Long Island and CT and will be for days. CNN says 2.2 million are without power in all of the affected states. The flooding is extensive and is expected to get worse.
How big is the storm surge?
"We are looking at the highest storm surges ever recorded" in the Northeast, said Jeff Masters, meteorology director for Weather Underground..... "The energy of the storm surge is off the charts, basically."
[More...]
(18 comments, 364 words in story) There's More :: Permalink :: Comments
Sending good thoughts to all of you in the path of Hurricane Sandy. Let us know how you are doing, especially if you were asked to evacuate but decided to stay put.
Although I'm safe and dry here in Colorado, TalkLeft's servers are near LaGuardia airport. If they go down, here is TalkLeft's backup site -- you may want to bookmark it now because otherwise it will be hard to find.
Some links: National Hurricane Center Sandy Advisories; The weather channel's Hurricane Sandy page; the Wall St Journal live updating page. On Twitter: The Weather Channel's Hurricane Central; @FEMA @CraigatFEMA @Readydotgov @RedCross @NHC_Atlantic
. Or watch the Weather Channel's
live streaming coverage on You Tube
.
Mayor Bloomberg's response to a question about the protecting the inmates on Riker's Island: "Don't worry about anybody getting out." Is he term-limited yet? [More on the Rikers prisoners][More...]
(36 comments, 239 words in story) There's More :: Permalink :: Comments
Hurricane Sandy could be the biggest storm to ever hit the United States. It could cover 800 miles and 50 to 60 million people.
A Tsunami has hit Hawaii. Evacuations are underway.
[Update 4:50 a.m.] Gerard Fryer, senior geophysicist at the Pacific Tsunami Warning Center to reporters:

– "The tsunami is arriving right now. I can't say how big it is because it's coming in as we speak."
"Typically the first wave is not the largest. Having inconvenienced everybody by making them evacuate in the middle of the night, I was hoping it would be bigger. The following waves I am sure will be bigger."
To all our friends on the east coast, and those in in Hawaii please be safe, and let us know how you are doing.
(25 comments) Permalink :: Comments
Today is the 17th anniversary of the Oklahoma City Bombing, in which 168 persons were killed and hundreds more injured. It was then, and remains today, the largest act of domestic terrorism in the history of the nation. The Government's investigation into the bombing was, until 9/11, the largest criminal investigation the Government had ever undertaken.
Timothy McVeigh was found guilty and executed in 2001. Terry Nichols was tried in both federal and state court and sentenced to life in prison, a sentence he is currently serving at Supermax in Florence, Colorado.
Speculation has never ceased about whether McVeigh and Nichols acted alone or were aided by others who either went undetected or were ignored during the Government's investigation.
Next week you can get greater insight with the release of Oklahoma City: What the Investigation Missed--and Why It Still Matters by investigative journalists Andrew Gumbel and Roger Charles.[More...]
(2 comments, 1223 words in story) There's More :: Permalink :: Comments
Via
TwitPic
Hurricane Irene has been downgraded to a tropical storm. It doesn't look bad in New York City, but police are still advising people to stay indoors. Flooding is still a danger.
Anderson Cooper is reporting from Battery Park. It wouldn't be a hurricane without him.
There was a segment with a group of very feisty women in a senior's home in Atlantic City saying they weren't going anywhere. Gov. Christie said they could only get 100 to leave, 500 simply refused. So far they are okay.
(100 comments) Permalink :: Comments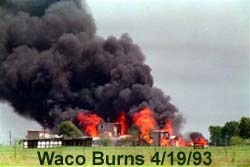 Some of you undoubtedly are watching the McVeigh Tapes tonight on MSNBC. They will have a computer generated character, who in their view bears a physical resemblance to Timothy McVeigh, so you have something to look at as they play the audio of tapes made during interviews he granted to the two reporters who wrote the book, American Terrorist.
Since I was one of McVeigh's trial lawyers, I obviously have my own opinions about why he chose to speak to the reporters and what his objectives were -- and how much of what he told them was accurate.
The reason I doubt I'll like Maddow's show is the attempt to politicize it and tie McVeigh to current times and the anti-government feelings some are expressing. There is no connection. And it's long past time to put the conspiracy theories to rest. [More...]
(113 comments, 671 words in story) There's More :: Permalink :: Comments