Tag: John McCain (page 2)
In an editorial today, the Casper Tribune endorsed Sen. Barack Obama. It says Obama is better on economic and energy issues and McCain flubbed by picking Gov. Sarah Palin. In describing McCain it says:
If the John McCain of 2000 saw today's counterpart, he wouldn't recognize himself. McCain is no longer a GOP maverick, or the war hero whose principles were unwavering. He has flip-flopped on issues ranging from tax cuts to torture in an effort to win over the conservative base of his party. He has waged a dismal campaign based on fear and divisiveness.
On Obama: [More...]
(6 comments, 234 words in story) There's More :: Permalink :: Comments
Bump and Update:
Ali Hamza al Bahlul
has been found guilty
at his Guantanamo Military Commissions trial.The ACLU says (statement to be available
here
shortly):
"The conviction of Al Bahlul is yet another example of a military commission system set up to produce convictions, not to deliver real justice. Unfortunately, because the system is fundamentally flawed and lacks any semblance of due process, a cloud of illegitimacy hangs over this verdict. The world deserves better than that from America. The next president should close Guantánamo and future prosecutions should occur in criminal or military courts where the Constitution still means something and where verdicts, no matter what they are, can be trusted." ...The ACLU calls on the next president to close Guantánamo, ban torture and end extraordinary rendition.
Original Post:
McCain vs. Obama on Gitmo Trials
[More...]
(3 comments, 922 words in story) There's More :: Permalink :: Comments
Quinnipiac released its final big swing state poll this morning. Obama is ahead in Ohio and PA. Florida is too close to call.
"Sen. Obama appears headed for the best showing of any Democratic candidate among white voters in a generation, going back at least to Jimmy Carter in 1976 and perhaps even to Lyndon Johnson in 1964," said Peter Brown, assistant director of the Quinnipiac University Polling Institute.
Obama leads by 10 in PA and 7 in Ohio. He's up 2 in FL, within the margin of error. As for McCain's last stand in PA:
"In the end, Sen. John McCain's troops in Central Pennsylvania, led by veterans, disaffected Sen. Hillary Clinton supporters and God and gun clingers, will be swept over by a wave of young black and urban new voters, giving Sen. Barack Obama the Keystone State," said Clay F. Richards, assistant director of the Quinnipiac University Polling Institute.
[More...]
(7 comments, 650 words in story) There's More :: Permalink :: Comments
The final USA Today/Gallup Poll is out. Obama is ahead of McCain by 11 points -- 53% to 42%. This is interesting:
Obama's favorable rating is 62% -- the highest that any presidential candidate has registered in Gallup's final pre-election polls going back to 1992.
USA Today's Washington bureau chief, Susan Page writes: [More...]
(19 comments, 197 words in story) There's More :: Permalink :: Comments
I don't think there's any doubt that if, as virtually universally anticipated, McCain loses the presidential election on Tuesday, it's because of two things: the economy and his choice of Sarah Palin as his vice-presidential candidate.
Columnist Earl Ofari Hutchinson puts them in perspective, by asking, what if McCain had picked Mitt Romney as his running mate. I've wondered the same thing but he says it much better and more succinctly than I would, so read it and see if you don't find yourself nodding along in agreement with his logic. I sure did. [More...]
(24 comments, 327 words in story) There's More :: Permalink :: Comments
The San Francisco Chronicle examines the changing electoral map. Highlights:
In the RealClearPolitics' average of polls today, Obama was ahead, at least slightly, in most swing states: Colorado (5.5 percentage points), New Mexico (7.3), Nevada (5.8), Virginia (3.8), Pennsylvania (7), Florida (4.2), Ohio (4.2) and North Carolina (0.3). McCain had edges in Arizona (3.5 points), Georgia (3), Montana (3.8), Missouri (0.7) and Indiana (0.5).
Early voting indicators are problematic for McCain:
In North Carolina, 2.6 million people have already voted, with Democrats outpacing Republicans 51 percent to 31 percent, according to state figures. In Colorado, where more than half of the vote may come in before election day, a recent Associated Press poll showed Obama leading 57 percent to 34 percent among early voters.
More...
(7 comments, 498 words in story) There's More :: Permalink :: Comments
The latest Colorado Poll released (Denver Post-Mason Dixon) has Sen. Barack Obama leading John McCain by 5 points.
Obama leads McCain 49 percent to 44 percent. Colorado unaffiliated voters, the critical voting bloc making up more than one-third of the state electorate, are backing Obama 57 percent to 32 percent. Four percent of those polled, however, were still undecided.
I noted Friday that the Obamas have made four visits to Colorado in the past week and that Michelle Obama will be here Monday night.
McCain and Palin have added last minute Colorado stops to their itineraries. Palin will be in Colorado Springs Monday while John McCain will be coming to Grand Junction, another Republican stronghold at noon on Election Day.
(14 comments) Permalink :: Comments
Earlier today I wrote about the latest Colorado poll showing Obama still with a big lead over John McCain. A reader asked me if I'm ready to call Colorado for Obama yet.
I thought I was, but now I'm having second thoughts. He was just in Denver and Fort Collins last week, so why are he and Michelle coming back to Colorado tomorrow to do a rally in Pueblo? Pueblo is a Democratic county. Maybe it's just that early voting turnout in Pueblo has not been as high as other places. As of today:[More...]
(38 comments, 699 words in story) There's More :: Permalink :: Comments
Public Policy Polling has released new state polls. In Colorado, Obama leads by 17 among those who have already voted and 10 overall:
65% of the folks we surveyed said they had already voted, and among those respondents Obama is winning 58-41. Folks planning to vote on election day support John McCain 50-47, bringing Obama's overall lead down to ten points.

...Two of the main factors driving Obama's success in the state continue to be his strong standing with independents and Hispanic voters. He is up 60-36 with voters who don't identify with either party, and he has a 65-33 lead with Hispanics, the fastest growing voter bloc in the state.
In the Senate race, Democrat Mark Udall is now up by 17.
Full Colorado results are here (pdf).
(4 comments) Permalink :: Comments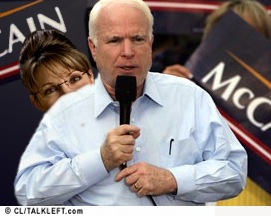 Among the more notable findings in today's New York Times/CBS News poll is that 59% of voters say Gov. Sarah Palin is not qualified for the job of Vice-President. On October 8, it was 50%.
All told, 59 percent of voters surveyed said that Ms. Palin was not prepared for the job, up 9 percentage points since the beginning of the month. Nearly a third of voters polled said that the vice-presidential selection would be a major factor influencing their vote for president, and those voters broadly favored Senator Barack Obama.
As to how his choice of Palin has damaged McCain's image: [More...]
(44 comments, 148 words in story) There's More :: Permalink :: Comments