Tag: Khalid Sheikh Mohammed
Maj. Jason Wright, one of Khalid Sheikh Mohammed's lawyers in his military commission trial, has resigned from the Army, which terminates his representation. In an interview, he says the U.S. is guilty of human rights violations and creating a "show trial."
Wright, who served in Iraq and is a Judge Advocate General (JAG), has spent the last 3 years defending Mohammed. Among his complaints:
Wright says Mohammed in particular has faced a level of torture "beyond comprehension." He says his client was waterboarded by the CIA 183 times and subjected to over a week of sleep deprivation; there were threats that his family would be killed. "And those are just the declassified facts that I'm able to actually speak about," Wright says.
[More...]
(8 comments, 1015 words in story) There's More :: Permalink :: Comments
Khalid Sheikh Mohammed was allowed to address the military commission trial judge today at Guantanamo. When he was done, the judge said it will be the last time the defendants are allowed to comment on the course of proceedings:
Mohammed told the judge, Army Col. James Pohl, that "the government uses national security as it chooses," urging him to keep that in mind as he considers requests from defense lawyers and the American Civil Liberties Union to scale back the rules for evidence and testimony.

"Many can kill people under the name of national security, and to torture people under the name of national security," the Arabic-speaking Mohammed said through a translator. "And detain their underage children under the name of national security."

In an apparent reference to Osama bin Laden, Mohammed noted that "the president can take someone and throw them into the sea in the name of national security.
[More...]
(1 comment, 227 words in story) There's More :: Permalink :: Comments
The five detainees charged with participating in the 9/11 attacks will appear in court at Guantanamo within 30 days to schedule proceedings in their trial by military commission. They include Khalid Sheikh Mohammed, Waleed bin Attash, Ramzi Binalshibh, Ali Abd al-Aziz Ali and Mustafa Ahmad al-Hawsawi
An arraignment will be held at Guantanamo next month, and all of the pretrial issues that surfaced in the earlier case will have to be litigated again, including the issue of self-representation and the mental health and capacity of Binalshibh and Hawsawi.
All of them were held in secret overseas prisons until 2006 when then President Bush ordered them moved to Guantanamo. All alleged being tortured. The death penalty is being sought for all of them.
The 123 page charge sheet is available at the Military Commission's website here (click on Khalid Sheikh Mohammed et al (2), and then use the arrow to go to "Docket." They will also be tried on the charges returned in January, 2012, available at the same link. [More...]
(2 comments, 355 words in story) There's More :: Permalink :: Comments
Attorney General Eric Holder will announce at 2:00 pm today that Khalid Sheikh Mohammed and the other 9/11 detainees at Guantanamo will be tried by military commission instead of in federal criminal court.
Obama and Holder deserves there lumps over this, but the primary fault lies with Congress and officials in New York. [More...]
(55 comments, 813 words in story) There's More :: Permalink :: Comments
James Comey and Jack Goldsmith, high-ranking Department of Justice officials under Bush, have an op-ed in the Washington Post defending Attorney General Eric Holder's decision to prosecute Khalid Sheikh Mohammed and four other detainees in federal criminal court instead of a military commission proceeding. The conclusion is fine:
But Holder's critics do not help their case by understating the criminal justice system's capacities, overstating the military system's virtues and bumper-stickering a reasonable decision.
In reaching that correct assessment, however, there's a few statements I take issue with. They posit that Holder made the decision to keep the U.S.S. Cole detainees in a military proceeding not for the reasons he said (that the attack happened outside the U.S.) but because the case against them is weak and the chance of conviction is greater in a military commission trial. In other words, Holder forum-shopped (as, they say, Bush's DOJ did before him) and there's nothing wrong with that. I think when it's done hoping to skirt the requirement of proof beyond a reasonable doubt because you know you can't meet it, there's definitely something wrong with it.
[More...]
(28 comments, 605 words in story) There's More :: Permalink :: Comments

Where are Khalid Sheikh Mohammed's wife and sons? What is the name of his wife? Were the children really brought to the U.S. for questioning or were they kept in detention in Pakistan, Afhanistan or elsewhere? Were they tortured? Were they ever released? Who got the reward for KSM's capture?
Back in 2003, when Khalid Sheikh Mohammed was captured, there were varying reports on his capture and the seizure and detention of his children. In 2004, Amnesty International wrote this open letter to Pakistan President Musharraf inquiring as to their whereabouts (See page 11.)
The timeline appears to go like this: [More...]
(3 comments, 2132 words in story) There's More :: Permalink :: Comments
In addition to the CIA's Inspector General report (pdf) released today, the CIA and Justice Department finally released documents in the ongoing FOIA litigation with the Center for Constitutional Rights, Amnesty International and other organizations over ghost detainees. (Background here.)
The first is a 2005 CIA report entitled Detainee Reporting Pivotal in War Against Al-Qa'ida. The second is a 2004 report, Khalid Shaykh Muhammad, Preeminient Source Against Al-Qa'ida.
These are the documents Dick Cheney said would support a case for torture. [More...]
(5 comments, 574 words in story) There's More :: Permalink :: Comments
The Inspector General's 2004 Report is out and available here (pdf). Hightlights are here. (According to the AP, the correct spelling is Khalid Sheikh Mohammed.)
One thing that leapt out at me was Paragraph 95 on page 43: Interrogators threatened to kill Khalid Shaikh Mohammed's children. Then there's a blacked out portion, followed by a statement that the interrogator reporting this did not believe the threat violated the law.
Do the blacked out lines refer to what they did to convince Khalid Shaikh Mohammed they could carry out the threat? In March, 2003, I wrote about the CIA's acknowledgement it had taken custody of Mohammed's sons from Pakistan to use them as leverage to get their father to talk: [More...]
(11 comments, 603 words in story) There's More :: Permalink :: Comments
U.S. District Court Judge Ricardo Urbina last month ordered the Government to provide Guantanamo inmate and habeas petitioner Abdul Raheem Ghulam Rabbani, who allegedly worked for accused 911 mastermind Khalid Sheikh Mohammed, with some of the discovery he requested about his interrogation in overseas prisons.
Judge Urbina also ruled that Rabbani can submit written questions to KSM. The declassified and redacted opinion has now been released. It's a long opinion, here are some of the more notable parts:[More...]
(1 comment, 1075 words in story) There's More :: Permalink :: Comments
Update: AP article here. They made their decision based on Obama's election to the Presidency. My translation: They don't want to be moved to federal court where they would be more likely to get life in a Supermax prison than the death penalty, and if they got the death penalty, face years in prison before it was carried out.
***
Khalid Sheikh Mohammed and four other detainees facing the death penalty in military commission trials decided today to plead guilty. Human Rights Watch responds:
"What should have been a major victory in holding the 9/11 defendants accountable for terrible crimes has been tainted by torture and an unfair military commissions process," said Jennifer Daskal, senior counterterrorism counsel at Human Rights Watch. "These five men are known to have been mistreated and tortured during their years in CIA custody, including the acknowledged waterboarding of Khalid Sheikh Mohammed."
More....
(13 comments, 221 words in story) There's More :: Permalink :: Comments
Khalid Sheikh Mohammed this week took the lead for himself and four other accused terrorists during pre-trial hearings in their military commissions proceeding.
Mohammed, Ramzi Binalshibh, Mustafa Ahmed al Hawsawi, Walid bin Attash and Ali Abdul Aziz Ali are charged with conspiring with al Qaeda to kill civilians in the September 11 attacks. All face the death penalty. While blasting the procedures as an "inquisition" and requesting recusal of the judge, Mohammed also offered to try and convince Ramzi Binalshibh to come out of his cell voluntarily and attend the proceedings. [More...]
(6 comments, 981 words in story) There's More :: Permalink :: Comments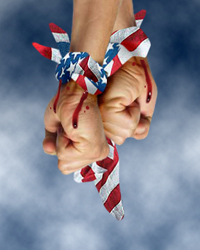 Meet Deuce Martinez. Career narcotics agent turned Five-Star CIA interrogator. Credited with getting Khalid Sheikh Mohammed, Abu Zubaydah and Ramzi Binalshibh to talk.
Waterboarding, belly slaps, sleep deprivation and more. Martinez didn't like getting his hands dirty with the physical abuse, he waited in the wings while others did it and then conducted the interrogations. If the detainee stopped cooperating, it was back to the torture, then back to Martinez. Ultimately, they talked. The value of their information? The CIA says huge, even accounting for the misinformation they were fed. Of course, there's no way to test that theory.
Where did this all occur? Inside the CIA's black hole of choice -- in Poland. [More...]
(10 comments, 899 words in story) There's More :: Permalink :: Comments