Tag: detainees (page 2)
A February, 2007 Red Cross report on the treatment of the 14 high-value detainees held in secret CIA prisons before being transferred to Guantanamo has been released. It's available here (pdf). The report in encrypted so I can't cut and paste excerpts, but the Washington Post has this description of its findings.
Medical officers who oversaw interrogations of terrorism suspects in CIA secret prisons committed gross violations of medical ethics and in some cases essentially participated in torture, according a confidential report by the International Committee of the Red Cross.
[More...]
(3 comments, 566 words in story) There's More :: Permalink :: Comments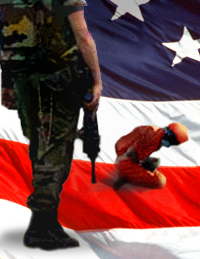 A new report from the Seton Hall Law Center for Policy and Research:
Today Seton Hall Law delivered a report establishing that military officials at the highest levels were aware of the abusive interrogation techniques employed at the detention camp at Guantánamo Bay (GTMO), and misled Congress during testimony. In addition, FBI personnel reported that the information obtained from inhumane interrogations was unreliable.
[More...]
(21 comments, 223 words in story) There's More :: Permalink :: Comments
The Obama Administration has blown its first chance to signal change from the Bush Administration in the treatment of detainees.
In a case brought by four detainees at Guantanamo alleging torture (details of Rasul v. Rumsfeld here,) the Obama Justice Department has filed a brief arguing that detainees have no constitutional rights and that, even if they did, the Administration officials are immune from liability
In another Guantanamo case, the Justice Department argues in a brief (pdf)that the U.S. has the right to indefinitely hold detainees. The Attorney General's press release is here.
As a smokescreen, the
DOJ
doesn't use the word "enemy combatent
." No one's buying that by not using the term, Obama's taking a different position from Bush. [More...]
(17 comments, 575 words in story) There's More :: Permalink :: Comments
President Obama issued an order halting the military commissions trials at Guantanamo. Yet, the judge accepted the latest filing by the five detainees whose trials were halted. The ACLU reports:
In defiance of President Obama's order halting the Guantánamo military commissions, a military judge accepted a legal pleading filed by the five 9/11 suspects. Judge Col. Stephen R. Henley ordered the immediate public release of the filed document despite the fact that all other legal filings have been kept sealed for months by the military commissions. Remarkably, the judge accepted the pleading from all five 9/11 defendants despite the fact that the competency of two of them has not been determined and their attorneys were not informed.
The New York Times reported on the pleading today. [More...]
(17 comments, 358 words in story) There's More :: Permalink :: Comments
Secretary of State Hillary Clinton met with the Foreign Minister of Spain and asked him to help the U.S. by accepting some released Guantanamo detainees:
Mr Moratinos said Mrs Clinton had asked him for "help in solving this drama, this unacceptable tragedy of the prisoners at Guantanamo".
His response:
"We are prepared to cooperate. Our teams will make contact to legally study each case on a case by case basis," he told Spanish media.
In addition:
Mr Moratinos said the meeting with Mrs Clinton heralded "a new stage in relations between the United States and Spain is opening that is more intense, more productive".
Well done. It's been too long since we had an effective Secretary of State.
(9 comments) Permalink :: Comments
In the fox guarding the hen house department: A report on Guantanamo President Obama requested on his second day in office has been completed.
A Pentagon report requested by President Obama on the conditions at the Guantánamo Bay detention center concluded that the prison complies with the humane-treatment requirements of the Geneva Conventions.
The report is by Adm. Patrick M. Walsh, the vice chief of naval operations.
In related news, Attorney General Eric Holder is setting up a task force to review the cases of the 245 detainees still held at Gitmo. Here's who's on it: [More...]
(10 comments, 265 words in story) There's More :: Permalink :: Comments
Huffington Post has an exclusive interview with Yemen citizen Mohamed Farag Bashmilah:
From October 2003 until May 2005, I was illegally detained by the U.S. government and held in CIA-run "black sites" with no contact with the outside world. On May 5, 2005, without explanation, my American captors removed me from my cell and cuffed, hooded, and bundled me onto a plane that delivered me to Sana'a, Yemen. I was transferred into the custody of my own government, which held me -- apparently at the behest of the United States -- until March 27, 2006, when I was finally released, never once having faced any terrorism-related charges.
He's never gotten an explanation and all of his attempts to obtain documentation have been ignored or rejected. Why is he coming forward at Huffpo today? As part of an effort underway to get President Obama to establish a commission. [More...]
(19 comments, 375 words in story) There's More :: Permalink :: Comments
The Congressional Research Service has released a new report, Enemy Combatant Detainees: Habeas Corpus Challenges in Federal Court (pdf).
This report provides an overview of the CSRT procedures, summarizes court cases related to the detentions and the use of military commissions, and summarizes the Detainee Treatment Act, as amended by the Military Commissions Act of 2006, analyzing its effects on detainee-related litigation in federal court.

The report summarizes pending legislation and provides an analysis of relevant constitutional issues that may have some bearing on Congress's options with respect to the Guantanamo detainees.
[Hat tip to Scribe.] The report's conclusion: Congress may be asked to expand the AUMF so more people can be detained longer. [More...]
(5 comments, 602 words in story) There's More :: Permalink :: Comments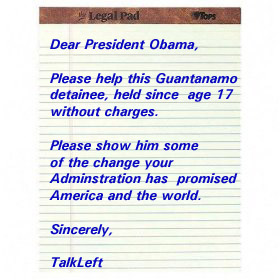 Mohammed Khan Tumani of Syria was 17 when captured and brought to Guantanamo 7 years ago. No charges have been filed against him. His lawyers today filed a motion for emergency relief in the case of Khan Tumani v. Obama.
The Center for Constitutional Rights filed the motion on his behalf. They are seeking an independent psychiatric and medical evaluation of Khan Tumani, access to his medical records, an end to his placement in solitary confinement and abusive interrogations, and access to his father who is also held at the camp.
Tumani recently tried to commit suicide. Read the details below:
(20 comments, 576 words in story) There's More :: Permalink :: Comments
President Obama took a great step forward today for the detainees at Guantanamo, for the rule of law and for the restoration of America's image in the world.
Yes, there's more work to be done, specifically with ensuring that the secret renditions via Ghost Air to other countries whose personnel may engage in torture are not allowed in the future, that the definition of torture includes not just what is prohibited by regulations in the Army Field Manual but also comports in all respects with the Geneva Conventions and the Convention Against Torture, that the military tribunals be dismantled entirely following the review process and that no new national security or other court system is set up to try detainees (our federal criminal and military courts are up to the task).
It's amazing to hear some of the pundits on TV tonight criticize Obama's orders and suggest Gitmo should stay open. Perhaps they have forgotten or never seen the images in this video. [More...]
(13 comments, 540 words in story) There's More :: Permalink :: Comments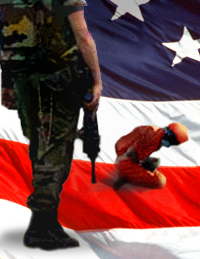 Bump and Update
: The Obama Administration is circulating a draft of an executive order allowing for up to a year to close Guantanamo. As the
Center for Constitutional Rights
says, that's too long.
It only took days to put these men in Guantanamo, it shouldn't take a year to get them out. We are proud that President Obama made addressing Guantánamo one of his first acts in office. Yet we are disappointed that he outlined no concrete steps for closing the base and gave his administration an entire year to sort out its plans – meaning that some men could have been detained indefinitely in terrible conditions for eight full years. Surely he could do better.
[More...]
(12 comments, 492 words in story) There's More :: Permalink :: Comments