Tag: immigrants rights (page 2)
Two lawsuits challenging SB 1070, the Arizona immigration law, were filed in federal court today.
In one of the suits filed Thursday, a Tucson police officer, Martin Escobar, 45, a 15-year veteran, claims the law, which requires officers "when practicable" to stop and check the legal status of people they reasonably suspect may be illegal immigrants, would compel him to racially profile.

Mr. Escobar argues that the law does not specify what criteria to use in deciding who might be in the country illegally, and that Tucson's heavily Hispanic population and proximity to the Mexican border would force him to question people based on their ethnicity, exposing him to civil suits.
I've uploaded the complaint here. [More...]
(5 comments, 257 words in story) There's More :: Permalink :: Comments
Arizona Governor Jan Brewer today signed the draconian anti-immigrant bill passed by the legislature into law. (Background here.) Before the signing, President Obama criticized it:
The Arizona law, he added, threatened "to undermine basic notions of fairness that we cherish as Americans, as well as the trust between police and our communities that is so crucial to keeping us safe."
The bill blatantly encourages racial and ethnic profiling. While it goes into effect in August, court challenges are expected immediately. The ACLU says the bill threatens civil rights and public safety. [More...]
(19 comments, 593 words in story) There's More :: Permalink :: Comments
The New York Times calls out President Barack Obama for "flinching" in his choice to lead the Justice Department's Civil Rights Division.
In January, Obama offered the job to well-respected civil rights lawyer Thomas Saenz of Los Angeles. Saenz had an impressive resume:
Mr. Saenz, the former top litigator in Los Angeles for the Mexican American Legal Defense and Educational Fund, ....was a leader of the successful fight to block California's Proposition 187, an unconstitutional effort to deny social services and schooling to illegal immigrants. He has defended Latino day laborers who were targets of misguided local crackdowns, from illegal police stings to unconstitutional anti-solicitation ordinances.
What happened? [More...]
(29 comments, 438 words in story) There's More :: Permalink :: Comments
We have Con Air for inmates and Ghost Air for detainees and now there's ICE Air. Tonight, Nightline examines ICE Air, the airline that deports the undocumented:
ICE has 22 detention facilities all over the country. When illegal immigrants are caught, they're flown to one of three hubs in Texas, Arizona or Louisiana. From there, ICE Air has daily flights to Central American countries such as El Salvador, Guatemala and Honduras, and also frequent flights to Nicaragua, Mexico, Ecuador, Colombia and the Caribbean. When it gets enough immigrants to fill a plane, it also flies to Asia, eastern Europe and Africa. ICE Air leases nine planes, and sometimes it also charters commercial jets. It flies six days a week.
Business is brisk. [More...]
(4 comments, 304 words in story) There's More :: Permalink :: Comments
Bump: I'm bumping this from yesterday where it got buried under our debate posts.
A new report, the Power of the Latino Vote (pdf), predicts 9 million Latino, Hispanic and immigrant citizens will vote on November 4.
The road to the White House passes through key "battleground" states with large numbers of Latino and immigrant voters like Florida, Nevada, Colorado, and New Mexico. These voters are also flexing their muscle in Senate and House races across the nation.
[More...]
(7 comments, 765 words in story) There's More :: Permalink :: Comments
Agriprocessers, the Postville, IA meatpacking firm that was subjected to ICE raids, has now been charged with child labor violations.
In all, 9,311 criminal misdemeanor charges involving 32 under-age workers were filed against the company, Agriprocessors Inc., and its owner, Aaron Rubashkin, and his son Sholom, who was the top manager of the packing plant in Postville, Iowa.
More....
(28 comments, 182 words in story) There's More :: Permalink :: Comments
Update: Robyn Blumer in the St. Petersberg Times has more on how the meatpacking plant abused the workers.
A New York Times editorial today takes on the meatpacking plant raids in Postville Iowa. It quotes from the essay of a professor and court interpreter at the subsequent criminal proceedings:
Dr. Camayd-Freixas's essay describes "the saddest procession I have ever witnessed, which the public would never see" — because cameras were forbidden.

"Driven single-file in groups of 10, shackled at the wrists, waist and ankles, chains dragging as they shuffled through, the slaughterhouse workers were brought in for arraignment, sat and listened through headsets to the interpreted initial appearance, before marching out again to be bused to different county jails, only to make room for the next row of 10."
[More...]
(136 comments, 450 words in story) There's More :: Permalink :: Comments
The Washington Post continues its excellent series on abuse of immigrant detainees. Today's segment reveals how immigration officials forcibly injected hundreds with sedatives when preparing them for flights back to their home country.
The U.S. government has injected hundreds of foreigners it has deported with dangerous psychotropic drugs against their will to keep them sedated during the trip back to their home country, according to medical records, internal documents and interviews with people who have been drugged.

The government's forced use of antipsychotic drugs, in people who have no history of mental illness, includes dozens of cases in which the "pre-flight cocktail," as a document calls it, had such a potent effect that federal guards needed a wheelchair to move the slumped deportee onto an airplane.
One example: [More...}
(12 comments, 206 words in story) There's More :: Permalink :: Comments
The Washington Post has conducted an investigation into medical care at U.S. detention centers housing immigration violators. Its conclusion:
Some 83 detainees have died in, or soon after, custody during the past five years. The deaths are the loudest alarms about a system teetering on collapse. Actions taken -- or not taken -- by medical staff members may have contributed to 30 of those deaths, according to confidential internal reviews and the opinions of medical experts who reviewed some death files for The Post.

According to an analysis by The Post, most of the people who died were young. Thirty-two of the detainees were younger than 40, and only six were 70 or older. The deaths took place at dozens of sites across the country. The most at one location was six at the San Pedro compound near Los Angeles.
More...
(19 comments, 584 words in story) There's More :: Permalink :: Comments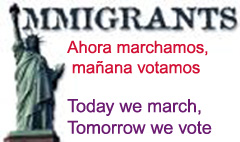 Another facet to today's immigrant rights marches (Received by e-mail from America's Voice, which doesn't seem to have a website for me to link to]:
Immigrant rights supporters from coast to coast have been registering voters and helping people become citizens in unprecedented numbers—increasing civic participation in key states and Congressional districts in this exciting election year.

...This year's rallies are just one snapshot of the intense voter mobilization effort around the country that we believe will play a central role in the 2008 election cycle. Already there has been a surge of immigrant voter participation in the early primary states that will likely spell doom or reward for politicians who seek to use anti-immigration as a wedge in the election.
Some quotes: [More...]
(18 comments, 567 words in story) There's More :: Permalink :: Comments
For the third year in a row, immigrant rights rallies were held across the United States today.
From Washington to Miami to Los Angeles, immigrant rights activists demanded citizenship opportunities for the estimated 12 million illegal immigrants in the U.S. and an end to raids and deportations.

"We come here to fight for legalization. We're people. We have rights," said Eric Molina, an undocumented factory worker who immigrated to Zion, Ill., from Mexico.
And no human being is illegal. Here's what's needed. [More...]
(17 comments, 191 words in story) There's More :: Permalink :: Comments
A new policy goes into effect in Michigan today. Undocumented residents will not be allowed to obtain drivers' licenses. But, that's not all.
The new policy also prohibits people who are legal but not permanent U.S. residents from getting licenses. Legislation to allow those on temporary work or student visas to get licenses is pending in the Legislature.
States that allow drivers licenses for the undocumented include:
Hawaii, Maine, Maryland, New Mexico, Oregon, Utah and Washington do not require drivers to prove legal status to obtain a license.
Unfortunately, we can't count on any of the Democratic candidates to take a strong stand on bringing the undocumented out of the shadows. While Hillary flubbed the question during a Democratic debate, John Edwards opposed licenses for the undocumented. And Barack Obama, well, he first said he was in favor of it but then weaseled out just moments later. Then he went back to his first position. As Hillary says, it's hard to figure out where he stands on a number of issues. This is one of them. [quotes below.]
(14 comments, 595 words in story) There's More :: Permalink :: Comments