Tag: marijuana reform (page 2)
Texas teen Jacob Lovaro was caught with 1.5 pounds of baked hash brownies and cookies, plus a pound of marijuana and $1,645. in his apartment. He's facing a potential life sentence because the he used hash oil instead of pot. In Texas, the quantity of drugs used for sentencing purposes in cases involving hash oil includes the weight of the brownies, not just the hash oil.
The prosecutor in the case has issued this statement explaining why the penalty is so high. [More...]
(17 comments, 326 words in story) There's More :: Permalink :: Comments
Congress has authorized 2,000 new hires for the FBI, and the FBI will be filling many of the positions with computer programmers and hackers in its fight against cybercrime. The problem, according to FBI Director James Comey, speaking yesterday at a white collar crime conference:
"I have to hire a great work force to compete with those cyber criminals and some of those kids want to smoke weed on the way to the interview," Mr. Comey said.
Up until now, the FBI has asked applicants whether they have used marijuana within the past three years. Comey says the agency is changing "its mindset and the way we do business" and working more outside the box:
One conference goer asked Mr. Comey about a friend who had shied away from applying because of the policy. "He should go ahead and apply," despite the marijuana use, Mr. Comey said.
(3 comments) Permalink :: Comments
It's that time of year again, when the House Appropriations Committee considers the annual DOJ budget. In the next several days, an amendment will be offered defunding medical marijuana raids in states with laws permitting use of medical marijuana.
Representatives Rohrabacher and Farr will be introducing an amendment to this measure to prevent any of the department's funding from being used to interfere with medical marijuana programs in states that have approved them.
The amendment would prevent the Department of Justice from using taxpayer funds to interfere in state-sanctioned medical marijuana programs.
(5 comments, 499 words in story) There's More :: Permalink :: Comments
Uruguay President José Mujica tells Fox News that Uruguay's new law legalizing marijuana is better than Colorado's new law. Why? Because in Uruguay, they regulate users, not just sellers. Under their new law, pot-smokers will be treated like cows.
"Right now, every cow, 13 million of them, are registered here," Mujica said. "We know where they were raised, what they eat – we're the only country that does that," he said. "We are going to apply a process just like that to marijuana laws."
[More...]
(15 comments, 294 words in story) There's More :: Permalink :: Comments
The Aspen Times has an in-depth article about the largest marijuana grow site in the state. Turned down by Aspen, the facility ended up taking over the old Coors warehouse in nearby Glenwood Springs.
It's located in Glenwood Springs and owned by Ron Radkte of Green Dragon. The building is 26,000 square feet, enough to make it the state's biggest so far, but by the time Radkte is finished with improvements, there will be more than 60,000 square feet of grow space and storage.
Radkte is committed to both the quality of his product and environmental concerns. It sounds like the "Whole Foods" of marijuana: [More...]
(8 comments, 506 words in story) There's More :: Permalink :: Comments
Uruguay is the first country to legalize the production, sale and consumption of marijuana. It released the new rules today. A copy in Spanish is here.
The government will control every facet -- including setting the price. Pot will initially cost around $1.00 per gram, in an effort to freeze out the black market. The government agency calling the shots is called the Institute for Regulation and Control.
Today we know that trying to eliminate marijuana has not been an effective measure and has only caused more problems. The marijuana market already exists and is controlled by drug trafficking. [More...]
(16 comments, 640 words in story) There's More :: Permalink :: Comments
Quinnipiac has released a poll of Coloradans about their views on marijuana since it became legal in the state. A clear majority view it as positive:
Voters support the law legalizing marijuana 54 – 43 percent;
49 percent of voters admit they've tried marijuana(only 15 percent admit using it
since it became legal January 1);
Driving has not become more dangerous because of legalized marijuana, 54 – 39 percent;
Legalized marijuana will save the state and taxpayers a significant amount of money, 53 – 41 percent;
Legalized marijuana will have a positive impact on the state's criminal justice system, 50 – 40 percent;
Legalized marijuana "increases personal freedoms in a positive way," voters say 53 – 44 percent;
Legalized marijuana has not "eroded the moral fiber" of people in Colorado, voters say 67 – 30 percent.
The only naysayers disapproving: Republicans (63 - 28 percent) and voters over 65 (62 - 28 percent.)
(76 comments) Permalink :: Comments
The Arizona Supreme Court has ruled that prosecutors need proof a driver was impaired by his consumption of marijuana to convict of drugged driving. The presence of THC metabolites in the driver's blood is not enough.
The opinion, available here, states that medical evidence shows the presence of Carboxy-THC does not equate to impairment.
"Because carboxy-THC can remain in the body for as many as 28 to 30 days after ingestion, the state's position suggests that a medical-marijuana user could face prosecution for driving anytime nearly a month after they had legally ingested marijuana," Brutinel wrote. "Such a prohibition would apply even when the driver had no impairing substance in his or her body."
[More...]
(10 comments, 277 words in story) There's More :: Permalink :: Comments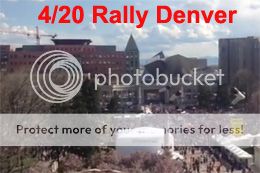 This is the first year of the 4/20 rally that marijuana is legal in Colorado, so it's not surprising there is a huge turnout at Civic Center Park in Denver. At 4:20 p.m., the tens of thousands of celebrators are expected to light up, even though it is still illegal to smoke pot in public. Organizers say between 50,000 and 80,000 are expected to attend over the two days.
There is also beefed-up police security for the two-day event. Yesterday, police issued 22 tickets for public consumption. Today, as of 4:10 pm, 37 were issued, with 31 of them for public consumption violations. (It's a civil, not criminal violation.)
Here's a photo of the Denver Police Command Center as they watch events in real-time, "using about 50 TV screens that can flip back and forth to 138 HALO and 38 traffic cameras." (via Denver Post)
Check out Westword's gallery of photos of the epic event. [More...]
(4 comments, 195 words in story) There's More :: Permalink :: Comments
The Colorado Supreme Court issued a new rule for lawyers today. Lawyers will be allowed to represent marijuana businesses, so long as the lawyers don't help clients break state law. Via the Denver Post:
The new rule gives lawyers the go-ahead to work with marijuana businesses — even though those businesses are breaking federal law — so long as the lawyers don't help businesses also break state law.
The new rule is here. Some background on why it was needed is here. [More...]
(10 comments, 805 words in story) There's More :: Permalink :: Comments
The Colorado Department of Revenue released the January, 2014 sales tax figures for marijuana today.
The state took in $2.9 million in sales and excise taxes and another $600,000 in licensing fees, for a total of $3.5 million.
The state distributed $2.1 million of the sales tax to county and local governments. Denver received the lion's share. The actual numbers are here. [More...]
(38 comments, 105 words in story) There's More :: Permalink :: Comments
Latest example of our rapidly changing times when it comes to marijuana: Comcast accepted and has begun airing an ad for medical marijuana. The ad is by MarijuanaDoctors and will be seen on a variety of channels between 10 pm and 5 am.
The commercial draws a parallel between a "shady" street dealer attempting to push "unsafe" sushi to unsuspecting buyers, and medical marijuana patients being forced to obtain their medication in a similar fashion. MarijuanaDoctors.com draws this parallel in an attempt to prove the severity of consulting physicians in order to obtain medical marijuana for terminal & debilitating medical conditions where the doctor may recommend that the benefits of medical marijuana outweigh the risks of in order to improve a patients overall health.
You can view the ad below: [More...]
(39 comments, 317 words in story) There's More :: Permalink :: Comments