Tag: medical marijuana (page 2)
Roshaja Harvey was found to have violated the terms of his supervised release for using marijuana. Harvey appealed, contending that because he had a doctor's recommendation to use marijuana in California pursuant to the California Compassionate Use Act of 1996, he did not violate the possession prohibition of the Federal Controlled Substances Act. He also argued a doctor's "order" was different than a "prescription."
The 9th Circuit has rejected his defense, affirmed the trial court's order, and added:
Whatever else "order" might mean under § 844(a) of the Controlled Substances Act, it does not include a mere recommendation from a physician pursuant to the Compassionate Use Act.
[More...]
(3 comments, 185 words in story) There's More :: Permalink :: Comments
Just another reason to ski in Colorado. Voters in Steamboat Springs yesterday rejected a proposal to ban medical marijuana businesses. Steamboat is in Routt County, and a separate proposal to ban the businesses throughout the county also failed. As one commenter to the article noted:
More people voted to retain MMJ businesses than voted for any member of the City Council.
In related news, Dan Hartman, the state's director of Medical Marijuana Enforcement has been reassigned to a different division. While the Department won't confirm it, many believe the reassignment came about because of his public stance opposing local bans of medical marijuana businesses. Here's the letter he wrote that was published in the Steamboat Springs Pilot: [More..]
(1 comment, 521 words in story) There's More :: Permalink :: Comments
Another first for Colorado: The Medical Marijuana Enforcement Division of the Department of Revenue has issued its first licenses to medical marijuana businesses. 11 businesses received the licenses and 7 have been notified they are next. 467 are in the final application phase.
Colorado is the first state in the nation to license marijuana dispensaries and infused-product businesses.
Medical-marijuana advocates say Colorado's regulations for cannabis businesses are the most comprehensive in the nation, and they credit the rules' thoroughness with shielding the businesses from federal raids.
[More...]
(22 comments, 135 words in story) There's More :: Permalink :: Comments
NBC News Los Angeles interviewed Andre Birotte Jr., U.S. Attorney for the Central District of California (Los Angeles) this weekend on the recent federal crackdown on medical marijuana dispensaries, their landlords and banks that do business with them.
According to Birotte, the crackdowns are on those who are making a profit, which is against California law. He insists they are only going after the profiteers since they are not in compliance with state law. His soundbite: "The compassionate use act has turned into the commercial use act." [More...]
(10 comments, 218 words in story) There's More :: Permalink :: Comments
Here is the press release issued by the Department of Justice (Eastern District of California) today on the new federal crackdown on medical marijuana businesses: (Received by e-mail, no link yet.)
SACRAMENTO,

Calif.October 7, 2011 – The four California-based United States Attorneys today announced coordinated enforcement actions targeting the illegal operations of the commercial marijuana industry in California. The statewide enforcement effort is aimed at curtailing the large, for-profit marijuana industry that has developed since the passage of California's Proposition 215 in 1996. That industry has swelled to include numerous drug-trafficking enterprises that operate commercial grow operations, intricate distribution systems and hundreds of marijuana stores across the state — even though the federal Controlled Substances Act makes illegal the sale and distribution of marijuana.
[More...]
(39 comments, 1259 words in story) There's More :: Permalink :: Comments
In 2004, Barack Obama said the drug war was "an utter failure" and we need to rethink it.
In New Hampshire in 2007, he said he would not have the Justice Department prosecute medical marijuana.
Obama during the presidential campaign: He won't use Justice Department resources to circumvent state laws. He wants them to focus on violent crime and terrorism.
[More...]
(23 comments, 254 words in story) There's More :: Permalink :: Comments
The Department of Justice has sent a threatening letter to marijuana dispensaries in California. The Associated Press has obtained the letter and reports:
Federal prosecutors have launched a crackdown on pot dispensaries in California, warning the stores that they must shut down in 45 days or face criminal charges and confiscation of their property even if they are operating legally under the state's 15-year-old medical marijuana law.
There will be a press conference tomorrow at which California U.S. Attorneys announce the new crackdown. At least 16 dispensaries and landlords got the letter which says they are violating federal drug laws, regardless of whether they are in compliance with California law. [More...]
(75 comments, 471 words in story) There's More :: Permalink :: Comments
The IRS has now jumped into the fray of medical marijuana businesses -- including dispensaries operating legally under the laws of their states.
The IRS is asserting that dispensaries cannot deduct ordinary business expenses like salaries, rent and security costs.
Here are the letters the IRS has sent. Its position: [More...]
(27 comments, 395 words in story) There's More :: Permalink :: Comments
The Department of Justice issued a new memo (available here) to federal prosecutors yesterday further "clarifying" its 2009 Ogden Memorandum. The Odgen memorandum (available here) said federal resources should not be used to prosecute those in "clear and unambiguous" compliance with state medical marijuana laws.
Sorry, the new memo says, that's not what we meant. We only meant federal resources shouldn't be used to prosecute cancer patients and other seriously ill people who used marijuana in compliance with state law. We never meant to provide a shield for those who supply medical marijuana to those in full compliance with state law.[More...]
(4 comments, 1103 words in story) There's More :: Permalink :: Comments
U.S. District Magistrate Judge Hugh Brenneman Jr. in Michigan has ordered the state to turn over medical marijuana records to the DEA for its use in a federal criminal investigation.
The DEA had issued administrative subpoenas to the Michigan Board of Community Health.
[H]e said that "while the Michigan Legislature declared its intent not to penalize the medical use of marijuana under state law, it had to acknowledge its action did not alter the existing federal prohibition against marijuana....The use of marijuana remains a federal felony."
[More...]
(9 comments, 255 words in story) There's More :: Permalink :: Comments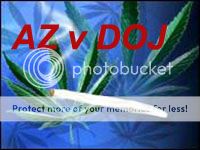 Arizona Governor Jan Brewer filed a federal declaratory action suit today against the Department of Justice, Eric Holder, U.S. Attorney Dennis Burke and some medical marijuana groups, asking the court to rule whether Arizona's medical marijuana law is valid when federal law prohibits it. The complaint is here and the exhibits with the letters from U.S. Attorneys and DOJ memos are here.
Despite the Governor's claimed and transparently false concern that Arizona's law puts state workers at risk of federal prosecution, medical marijuana advocates say the lawsuit is designed to thwart the state law. Yesterday, U.S. Attorney Dennis Burke said that despite the threat of the lawsuit, which now has been filed, medical marijuana in AZ is not at risk and Gov. Brewer is distorting the facts. [More....]
(7 comments, 289 words in story) There's More :: Permalink :: Comments
DOJ's tricks are working. After the U.S. Attorney for the Eastern District of Washington sent a letter to the legislature warning that passage of a medical marijuana licensing bill would subject state workers to federal prosecution, today Governor Christine Gregoire vetoed the bill, saying she was "swayed" by the letter. (Background on the almost identical letters sent by a number of U.S. attorneys in recent weeks in states where medical marijuana is legal is here.)
More U.S. Attorneys are jumping on the bandwagon. Today, it was the U.S. Attorney for Rhode Island, sending almost a verbatim letter, even though he hadn't been asked for his position.
And in Montana today, Governor Brian Schweitzer let the bill that passed the legislature this week restricting medical marijuana become law by doing nothing. His lame explanation: [More...]
(3 comments, 251 words in story) There's More :: Permalink :: Comments