Tag: Aspen (page 2)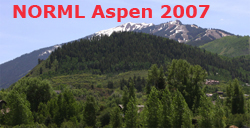 Criminal defense lawyers take note. This year's NORML Aspen legal conference (June 9 - 10th) promises to be outstanding. Tommy Chong, Tony Serra (just released from federal prison on a tax misdemeanor and back practicing law) will be featured, and we will again be spending an afternoon at Hunter Thompson's Owl farm.
[NORML}will be holding another NORML legal seminar in Aspen, CO in early June. Among the many terrific speakers on the Aspen program, we are delighted to announce that Tommy Chong, of the famous duo Cheech and Chong, will be our featured luncheon speaker.

Tommy, as you may recall, was selectively prosecuted by the federal government a couple of years ago for selling pipes on the Internet, for which he ended up serving nine months in prison. His topic for the seminar is titled Why Pot Is Still Illegal and Why Dave Is Still Not Here. This experience has clearly left Tommy feeling a renewed sense of urgency for the need to legalize marijuana and stop arresting responsible marijuana smokers.
More....
(615 words in story) There's More :: Permalink :: Comments
Dateline Aspen: Today is the final day of the NORML Aspen legal seminar. Troy Hooper of the Aspen Daily News (link fixed) takes a look at the first day's events including my presentation on Terrorism and the War on Drugs: The Shrinking of the Constitution.
Gerry and Chris Goldstein once again have opened their home to all of us, hosting a very fun pre-dinner Wednesday night and a NORML benefit dinner last night. Last night's dinner was attended by more than 50 people, and included Aspen Sheriff Bob Braudis (recovering from bronchitis, it was his first day out) and Anita and Juan Thompson (Hunter Thompson's wife and son). Chris Lanter, the incredible chef of Aspen's Cache-Cache restaurant, took charge in the kitchen and contributed not only his time but all of the food. Why? He told me:
(8 comments, 326 words in story) There's More :: Permalink :: Comments