Tag: Aspen (page 2)
Former President Bill Clinton is in Aspen at the Ideas Festival. Today he's playing golf, but he spoke yesterday to a crowd of 700.
Via Troy Hooper, Editor of the Aspen Daily News, in the Denver Post:
It's well-documented that Clinton is no angel either but he remains a rock star of the Democratic Party and was the headliner at the festival, hosted by the Aspen Institute.

He filled the Greenwald Pavilion with more than 700 high-powered attendees who greeted him with an extended standing ovation. Clinton's daughter, Chelsea, was seated next to Gen. Colin Powell front and center.
Much of Clinton's remarks centered on the Africa election in Zimbabwe, calling for Robert Mugabe either to step down or "form a power-sharing arrangement with his chief opponent."
He didn't mention Hillary or the Democratic nomination for President, but he had this to say about John McCain and Barack Obama on environmental policy: [More...]
(32 comments, 480 words in story) There's More :: Permalink :: Comments
It's that time of year again. I'm off to Aspen for the NORML Aspen Legal Seminar. My topic this year: Crackadoodledoo! A New Dawn in Crack Cocaine Sentencing. (I only wish it were true.) Here's the full schedule.
Like last year, I'll be staying in Woody Creek at Hunter Thompson's Owl Farm, with his wife Anita and his longtime Washington editor, Shelby Sadler. And of course, the peacocks.[More...]
(17 comments, 455 words in story) There's More :: Permalink :: Comments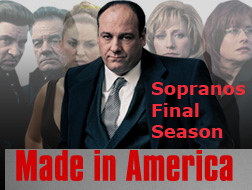 I put up a Sopranos open thread before the start of Sunday night's finale as I have every week the past two seasons. I was too angry after the show to add my thoughts. I waited until I slept on it and watched it again. My final reaction: Count me among those who are livid.
Like many viewers I've watched every episode of the show. Unlike the most obsessed viewers, I cannot recall all the players in all the episodes in all the seasons. I just enjoyed the show as I watched. It was entertainment. I never saw any greater message in the show, never cross-checked the minor characters with their real actor names to see if they re-appeared in future episodes and didn't analyze the dialog or action searching for clues.
But, at the end of each show I wondered what would happen next. I never expected that the final episode would be one in which nothing happened.
More...
(44 comments, 1197 words in story) There's More :: Permalink :: Comments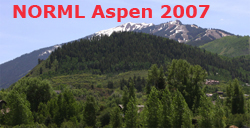 Criminal defense lawyers take note. This year's NORML Aspen legal conference (June 9 - 10th) promises to be outstanding. Tommy Chong, Tony Serra (just released from federal prison on a tax misdemeanor and back practicing law) will be featured, and we will again be spending an afternoon at Hunter Thompson's Owl farm.
[NORML}will be holding another NORML legal seminar in Aspen, CO in early June. Among the many terrific speakers on the Aspen program, we are delighted to announce that Tommy Chong, of the famous duo Cheech and Chong, will be our featured luncheon speaker.

Tommy, as you may recall, was selectively prosecuted by the federal government a couple of years ago for selling pipes on the Internet, for which he ended up serving nine months in prison. His topic for the seminar is titled Why Pot Is Still Illegal and Why Dave Is Still Not Here. This experience has clearly left Tommy feeling a renewed sense of urgency for the need to legalize marijuana and stop arresting responsible marijuana smokers.
More....
(615 words in story) There's More :: Permalink :: Comments
Dateline Aspen: Today is the final day of the NORML Aspen legal seminar. Troy Hooper of the Aspen Daily News (link fixed) takes a look at the first day's events including my presentation on Terrorism and the War on Drugs: The Shrinking of the Constitution.
Gerry and Chris Goldstein once again have opened their home to all of us, hosting a very fun pre-dinner Wednesday night and a NORML benefit dinner last night. Last night's dinner was attended by more than 50 people, and included Aspen Sheriff Bob Braudis (recovering from bronchitis, it was his first day out) and Anita and Juan Thompson (Hunter Thompson's wife and son). Chris Lanter, the incredible chef of Aspen's Cache-Cache restaurant, took charge in the kitchen and contributed not only his time but all of the food. Why? He told me:
(8 comments, 326 words in story) There's More :: Permalink :: Comments