Tag: Brent Wilkes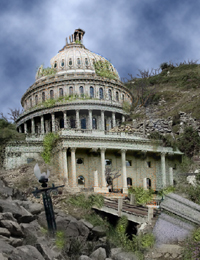 Defense Contractor Mitchell Wade was sentenced to two and a half years in federal prison today for paying almomst two million dollars in bribes to former Congressman Randolph "Duke" Cunningham. Cunningham is serving an eight year sentence.
Wade cooperated with prosecutors, providing evidence against Cunningham and others and pleaded guilty in exchange for a reduced sentence in his own case. [More...]
(2 comments, 395 words in story) There's More :: Permalink :: Comments
A federal jury in San Diego today found contractor Brent Wilkes guilty on all 13 counts.
The Judge told Wilkes to bring his toothbrush when he comes back for sentencing:
Burns set a Jan. 28 sentencing date for Wilkes, warning the defendant that he usually remands convicts directly to prison custody.
Looks like the jury believed the prostitutes over Wilkes, who testified in his own defense. And once again, a laughing jury doesn't bode well for the defense.
Wilkes also faces a second, 30 count federal bribery trial with his childhood friend, former CIA Executive Director Kyle Foggo.
(2 comments) Permalink :: Comments
The bribery trial of Brent Wilkes has gone to the jury.
Wilkes surprised everyone by taking the stand in his own defense, particularly prosecutors.
From accounts I've read, Wilkes was credible job on the stand, the jury liked him and laughed at his jokes and Geragos gave a good closing.
Yesterday, at the corruption trial of contractor Brent Wilkes in California, the Government closed its case with
testimony from two prostitutes
who testified about their activities with Wilkes and former Congressman Randy "Duke" Cunningham.
A prostitute whom prosecutors say a defense contractor provided to former Rep. Randy "Duke" Cunningham testified Wednesday that the congressman fed her grapes as she sat naked in a hot tub before they headed to a bedroom at a Hawaiian resort.

....Donna Rosetta said she was chauffeured to a private villa at the Hapuna Beach Prince Hotel in Kamelua, Hawaii, in August 2003 by an escort service she worked for. Cunningham and Wilkes invited her and a second woman to undress and slide into a hot tub before Cunningham invited her upstairs, Rosetta said. "They were smoking cigars and talking about some meeting they had earlier," Rosetta said. She and Cunningham went to a bedroom, and he tipped her $50 to $80, she said.

The other woman, Tammy McFadden, testified that Wilkes and Cunningham appeared to be arguing about who would go upstairs with which woman. "The one I ended up with was the one who was running the show," said McFadden, referring to Wilkes. She described Cunningham as "the boisterous one" and said he was overbearing.
I hear Wilkes' lawyer didn't even cross-examine at least one of the women. Probably, of more concern to him was the testimony of Wilkes' nephew, Joel Combs, who found the hookers and described for the jury how Wilkes used free trips and other inducements to get close to Cunningham.
More...
(10 comments, 356 words in story) There's More :: Permalink :: Comments