Tag: Coronavirus
The White House and author of this modeling report showing an expected increase in covid-19 cases and deaths by June 1 are doing their best to convice the media this report was not finished and isn't meanat to be relied on.
The daily death toll will reach about 3,000 on June 1, according to an internal document obtained by The New York Times, nearly double the current number of about 1,750.

...The projections, based on government modeling pulled together in chart form by the Federal Emergency Management Agency, forecast about 200,000 new cases each day by the end of the month, up from about 25,000 cases a day currently.
The report is here. [More...]
(44 comments, 263 words in story) There's More :: Permalink :: Comments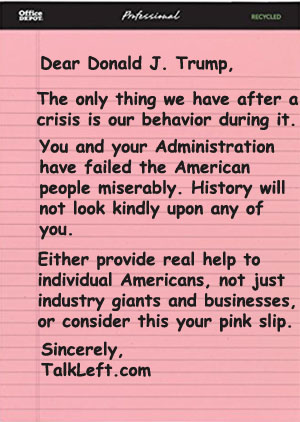 Here's a summary of what is in the Republican's $2 trillion spending bill to reboot the economy. It's a bailout of big industry and business and a pittance for individuals.
It's also money that mostly has to be repaid. With what? Donald Trump's belief that when this is over our economy will "skyrocket" and the companies on the receiving end will be able to repay these humongous loans? [More...]
(11 comments, 1164 words in story) There's More :: Permalink :: Comments
Donald Trump's Coronavirus Task Force is scheduled to speak to the nation in a few minutes. You can watch live online here.
The procedural vote on the Republican's Trillion Dollar [Corporate] Aid bill has been delayed. ET.
It
sounds like the deal has fallen apart
, and Nancy Pelosi said today the Dems will introduce their own bill.
I hope everyone reading this is feeling okay.
Update: Trump was abysmal in his delivery. He read from his speech, not a teleprompter, which it sounded like he hadn't even read before taking the podium. He rambled on about something having to do with rescuing a woman who was "horribly treated" and "terribly abused" somewhere and we needed Honduras' government's approval to "get her out of there". (Maybe that was the reason the presser started an hour late? This must be her.) [More...]
(48 comments, 620 words in story) There's More :: Permalink :: Comments
I think America will recover from the coronavirus much faster than the economic calamity that is befalling the country. I think we passed recession months ago and are now headed into a 1920's style depression. For more technical explanations, see Axios here . I don't know how the economy bounces back after this. This is not like fighting a world war -- it seems like Americans will soon be fighting a domestic economic battle, for food, shelter and other basics of life. [More...]
(135 comments, 687 words in story) There's More :: Permalink :: Comments
Now that testing is available in Colorado (albeit limited and involving long waits), the Colorado Department of Public Health is reporting results online with updates every five minutes. Denver and Eagle County (Vail) each have 24 cases. Total for Colorado as of today, March 15, 2020: 131. One elderly woman at increased risk due to a history of pulmonary issues has died in El Paso County (Colorado Springs).
On March 13, 2020 there were 5 new cases. On March 14, 2020 there were 24 new cases. Today, there are 30 new cases confirmed by testing.
Here is a realtime updated map and infographic by the Colorado Department of Health and Public Safety. [More...]
(54 comments, 233 words in story) There's More :: Permalink :: Comments