Tag: Don Siegelman
Bad news for former Alabama Governor Don Siegelman. The 11th Circuit Court of Appeals today upheld his conviction on all but two counts in a 68 page opinion, available here (pdf).
The three-judge panel of the 11th Circuit Court of Appeals was unanimous in ruling that there was enough evidence to convict Mr. Siegelman of bribery for having appointed a campaign contributor to a state hospital licensing board, rejecting his arguments that the testimony of a key aide who turned against him was not enough.

The judges threw out two lesser charges against Mr. Siegelman having to do principally with the actions of the businessman he appointed to the hospital board, Richard Scrushy, whose separate conviction was upheld. The judges thus rejected the prosecution's contention that Mr. Siegelman had participated in a "broader self-dealing scheme."
Siegelman will be resentenced. More thoughts and reaction below:
(15 comments, 1647 words in story) There's More :: Permalink :: Comments
Raw Story has an exclusive interview with Robert Luskin, lawyer for Karl Rove, about Rove's cooperation in the House Judiciary Committee's probe into the prosecution of former Alabama Governor Don Siegelman.
Rove will not rely on (1) a White House claim of immunity for senior advisors to the president, (2) executive privilege or (3) his personal privilege against self-incrimination. He will cooperate with the investigation.
Did Rove get immunity in exchange for his cooperation? Luskin won't answer that one.
Asked if he had a comment on Sen. Patrick Leahy's (D-VT) proposed "truth commission," in which Bush officials would be offered immunity in exchange for testimony, Luskin said, "No."
(9 comments) Permalink :: Comments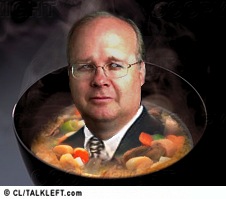 Dan Froomkin of the Washington Post has extensive comments and media reaction on the Karl Rove subpoena.
The House Judiciary Committee yesterday released documents and correspondence pertaining to Rove's subpoena. Here is the letter (pdf)from the Office of Professional Responsibility stating it has opened a probe into the Don Siegelman prosecution.
As promised yesterday, here is the 99 page appeal brief filed by Siegleman.
(11 comments) Permalink :: Comments
Former Alabama Governor Don Siegelman filed a 99 page appeal brief today. I received a copy of the brief but it says "embargoed until tomorrow" so I'm not uploading it tonight.
The part that addresses Karl Rove is contained in a sentencing argument. The Court departed upwards from the sentencing guidelines because of unspecified statements Siegelman made to the media critical of the Executive Branch. (I quote some of that argument at the end of this very long post.)
Karl Rove was subpoenaed today by the House Judiciary Committee. His lawyer will fight the subpoena. From the April, 2008 Judiciary Committee report (pdf): [More...]
(22 comments, 1220 words in story) There's More :: Permalink :: Comments
Former Alabama Governor Don Sigelman was granted an appeal bond today by the 11th Circuit Court of Appeals which ruled his appeal raises a substantial question. He has served 9 months of a 7 year sentence.
The release may make it more likely Siegelman will testify in a Congressional probe:
Earlier in the day, in fact, Democrats on the House Judiciary Committee in Washington asked the Justice Department to allow Mr. Siegelman to travel to Washington to testify about his prosecution, which he has long claimed was politically motivated. Attorney General Michael B. Mukasey said such a temporary release was unlikely, but the appellate court decision increases the possibility that the former governor will be able to testify before the committee.
(18 comments) Permalink :: Comments
Larisa Alexandrovna and Muriel Kane of Raw Story have the first of a multi-part series today on how Republican heavyweights sent former Alabama Governor Don Siegleman to jail.
RAW STORY Investigates has decided to focus a series of reports, interviews, and investigative pieces over the next several weeks on Siegelman's case. At the very least, the investigation will illuminate an incestuous pool of corruption in Alabama, with government officials, lobbyists, attorneys, and even judges behaving in ways that breach the public trust.
Their timeline of the prosecution is here. Part One is entitled, Don Siegelman, political prisoner.
The idea that a prominent politician -- a former state governor -- could be tried on charges that many observers consider to be trumped-up, convicted in a trial that involved numerous questionable procedures, and then hauled off to prison in shackles immediately upon sentencing would be almost unbelievable. But there is such a politician: Don Siegelman, Democratic governor of Alabama from 1999 to 2003.