Tag: Guantanamo suicides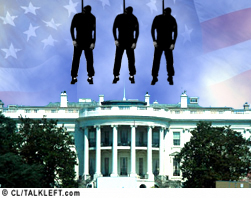 The DC Appeals Court today upheld the dismissal of a lawsuit by surviving relatives of detainees who committed suicide at Guantanamo. While the district court cited failure to state a claim as a basis for the dismissal, the Appeals Court cites the Military Commissions Act(Section 7(a) and 28 USC 2241 (e)) as depriving federal courts of jurisdiction to hear claims regarding conditions of confinement (as opposed to habeas claims regarding lawfulness of detention.)
The Military Commissions Act of 2006 results in no remedy being available. The Court (opinion here) says tough luck.
"Not every violation of a right yields a remedy, even when the right is constitutional."
[More...]
(3 comments, 317 words in story) There's More :: Permalink :: Comments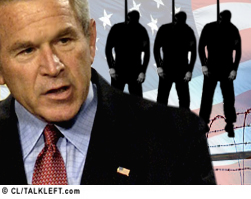 Seton Hall Law School's Center for Policy and Research has issued a new report responding to the Defense Department's latest attempt to justify its investigation into the 2006 deaths of three detainees at Guantanamo. The full report, DOD Contradicts DOD, is available here.
The Center for Policy and Research Report shows that each of the cell block guards on duty that night gave two statements, and the first statement for each is missing. The only statements from the guards in the NCIS report were made only after those guards had been threatened with prosecution because of the contents of their previous—and now missing—statements.
[More....]
(4 comments, 686 words in story) There's More :: Permalink :: Comments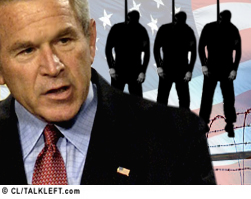 Via the Associated Press, a new article by Scott Horton in Harper's Magazine reports new, and if true, explosive findings on the deaths of the three Guantanamo detainees who allegedly committed suicide in their cells in 2006. Horton alleges the deaths may have been homicides.
Three Guantanamo Bay detainees whose deaths were ruled a suicide in 2006 apparently had been transported from their cells hours before their deaths to a secret site on the island, an article in Harper's magazine asserts.

...Harper's reported that the deaths of the three detainees, or the events that led directly to their deaths, most likely occurred at a previously undisclosed facility a mile or so from the main Guantanamo Bay prison complex.
[More...]
(7 comments, 415 words in story) There's More :: Permalink :: Comments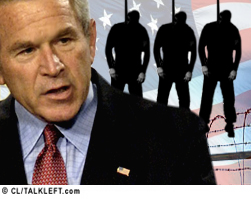 Seton Hall University School of Law's Center for Policy & Research has released a new report on the Guantanamo suicides. You can read the full report, Death in Camp Delta, here (pdf). From the press release:
[T]his report highlights the derelictions of duty by officials of multiple defense and intelligence agencies who allowed three detainees to die and elected not to conduct a proper investigation into the cause of the deaths.
[More...]
(4 comments, 769 words in story) There's More :: Permalink :: Comments