Tag: Hispanic voters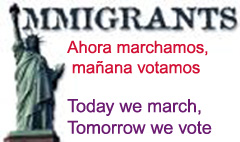 Via Colorado Independent:
Eighty-one percent of Latino voters in Colorado voted for Democratic Sen. Michael Bennet. Split the Latino vote down the middle between Bennet and Republican Ken Buck and Buck wins easily. Even if Buck had only received 30 percent of the Latino vote, he would have won the election.
Results here, from Latino Decision which reports 10% of Colorado voters are Latino. [More...]
(6 comments, 191 words in story) There's More :: Permalink :: Comments