Tag: Joe Lieberman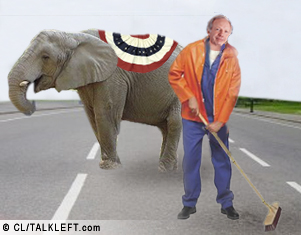 Is anybody watching this charade? He even has the nerve to call himself a Democrat.
Update: He says Obama isn't right for the job because he has no record. And Sarah Palin, who would step into the Presdency should anything happen to John McCain? Please.
Now Lieberman is praising Sarah Palin, calling her a great lady. She's a reformer. She is a leader we can count on to help John shake up Washington. What about counting on her if she has to take over as President? He can't address that. All he can do is steal Obama's message of change.
(93 comments, 166 words in story) There's More :: Permalink :: Comments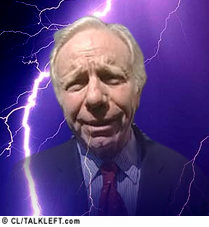 If you missed the story back in 2006 about Joe Lieberman campaign's allegation that the Ned Lamont campaign hacked his website the day before the CT primary, Crooks and Liars has a good rundown from the day the Lamont Campaign was cleared following an investigation by the state attorney general's office and the U.S. Attorney's office.
Today the Stamford Advocate releases an e-mail it obtained via a FOIA request showing the FBI's conclusion that Lieberman's campaign was responsible for the crash.
The FBI office in New Haven found no evidence supporting the Lieberman campaign's allegations that supporters of primary challenger Ned Lamont of Greenwich were to blame for the Web site crash.

Lieberman, who was fighting for his political life against the anti-Iraq war candidate Lamont, implied that joe2006.com was hacked by Lamont supporters.
[More...]
(13 comments, 330 words in story) There's More :: Permalink :: Comments