Tag: Larry Ray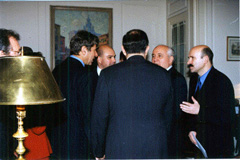 Last month I chronicled the adventures of FBI informant and Bernie Kerik pal Larry Ray. I ended the last post with,
A lingering question is, what did Rudy know about Ray and Bernie (not just Interstate and Bernie) and when did he know it?
The Washington Post addressed that question yesterday. Larry Ray, who is now in jail on a probation violation, contacted WaPo reporters and shared Berie's e-mails (pdfs), photos of himself and Gorbachev in Rudy's office when Rudy was Mayor, as well as other documents previously shared with the feds when he cooperated against Bernie.
More...
(4 comments, 459 words in story) There's More :: Permalink :: Comments