Tag: Libby Trial
Scooter Libby's lawyer has announced they will drop the appeal of Libby's felony convictions.
It's too expensive and draining on his "young family."
I suspect this means Scooter has lined up another job and doesn't need his law license back.
Update: Joe Wilson thinks it means Libby's getting a pardon from Bush (received by e-mail, no link yet): [more]
(8 comments, 232 words in story) There's More :: Permalink :: Comments
The House Judiciary Committee's hearing on the use and abuse of presidential dlemency authority for executive branch officials, to include the Scooter Libby sentence commutation, begins at 12:00 pm ET.
You can watch the live webcast here.
I've already expressed my opinion on the witness list, and how I don't think it will shed any light on Bush's motives in granting the commutation.
I think it is worthwhile to listen to the testimony of Joe Wilson and law professor Doug Berman.
Unless the President waives executive privilege on the Libby commutation as Rep. Conyers asked him to do in this letter (pdf), and as President Clinton did in similar hearings into his exercise of clemency, I don't think we get very far today.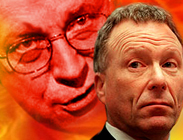 The House Judiciary Committee has announced the list of witnesses for Wednesday's hearing on "The Use and Misuse of Presidential Clemency Power for Executive Branch Officials.
Via TP Muckraker and Sentencing Law & Policy:
Ambassador Joseph Wilson
Roger Adams, US Department of Justice Pardon Attorney
Douglas A. Berman, William B. Saxbe Designated Professor of Law, Moritz College of Law, The Ohio State University
Tom Cochran, Assistant Federal Public Defender, Middle District of North Carolina (Attorney for [sic] Vincent Rita, Rita v. US)
David Rifkin, partner, Baker & Hostetler

LLP,

former Justice Department official during the Reagan and Bush Sr. administrations.
TP Muckraker quotes Rep. John Conyers on the purpose of the hearing:
"Congress must now look into presidential authority to grant clemency, and how such power may be abused. Taken to its extreme, and possibly in the case of the Libby clemency, the use of such authority could completely circumvent the law enforcement process and prevent credible efforts to investigate wrongdoing in the executive branch."
While I'm pleased Joe Wilson and Prof. Berman, who writes the excellent Sentencing Law & Policy blog are going to be witnesses, I'm concerned that the committee will not be hearing from anyone involved in the Libby commutation process.
There was no clemency petition, the Pardon Attorney was kept out of the loop and I just don't see how these witnesses will shed any light on whether Bush's motive for granting the clemency was proper or improper.
More...
(8 comments, 988 words in story) There's More :: Permalink :: Comments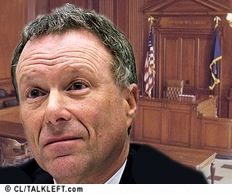 The briefs are in and both the Government and Team Libby, as well as White House Counsel Fred Fielding who submitted a letter, agree: Libby's two year term supervised release is valid and he should begin serving it immediately.
Fitz's brief is here (pdf), Libby's is here, and Fred Fielding's letter (which he sent to both sides and filed with the court even though neither side took Judge Walton up on his suggestion and asked for the White House's opinion) is here.
I'd say it's a done deal. Libby will be on supervised release before the week is out.
For what supervised release means for Libby, see my earlier post, Life on Supervised Release. For TalkLeft's analysis of the issue of the validity of the supervised release term in light of the commutation see Suggestions for Judge Walton on Libby's Supervised Release.
(10 comments) Permalink :: Comments
Michael Iskifoff covers the Scooter Libby sentence commutation in Newsweek today. As to the role Dick Cheney may have played, he writes:
Hanging over his deliberations was Cheney, who had said he was "very disappointed" with the jury's verdict. Cheney did not directly weigh in with Fielding, but nobody involved had any doubt where he stood. "I'm not sure Bush had a choice," says one of the advisers. "If he didn't act, it would have caused a fracture with the vice president." (White House officials and Cheney declined to comment. "As you know, we don't discuss internal deliberations," a Cheney spokeswoman tells NEWSWEEK.)
One of my first thoughts after hearing about the commutation was that it showed Dick Cheney still had a lot of clout. Now I'm wondering how he'll use it to obstruct the Congressional hearings next week. Cheney has a penchant for hiding behind executive privilege.
Update: Josh Marshall adds some thoughts on this.
(4 comments) Permalink :: Comments
Crooks and Liars reports that Sen. Charles Schumer said on Face the Nation today that the Committee may call Libby prosecutor Patrick Fitzgerald to testify about Bush and Cheney in the context of the Valerie Plame investigation.
If they do, I hope they ask him whether he and Team Libby had any discussions after Libby's conviction about Libby providing information to the Government on Cheney and Bush's role in PlameGate in exchange for the Government's filing of a Rule 35 motion for sentence reduction.
Rule 35 provides in part:
(1) In General. Upon the government's motion made within one year of sentencing, the court may reduce a sentence if:

(A) the defendant, after sentencing, provided substantial assistance in investigating or prosecuting another person;
I can't think of any reason off the top of my head why that information would be privileged. As a federal court in California ruled in a case I cite all the time in discovery motions, almost always with successful results:
More...
(8 comments, 547 words in story) There's More :: Permalink :: Comments
John Colson, writing in the Aspen Times, supports one emerging theory of the Scooter Libby commutation: Bush and Cheney couldn't let a caged Scooter sing:
Cheney, better than anyone, knows what a weak link Libby is. All you have to do is look at the guy to know, without any doubt, that within two weeks of incarceration he would sing like a lark on a bright spring morning. And the notes of his song would not be good for Cheney, Bush or the entire construct of deceit and destruction that the Bush presidency has become.

Libby certainly knows who decided Plame's identity should be leaked to the media. He certainly knows who was in on the discussions leading to that decision. And he undoubtedly knows where the papers are that could prove any assertions of those points, although it's entirely possible that Cheney is smarter than Richard Nixon was and already has shredded, electronically scrubbed and otherwise obliterated all the evidence.
The question then becomes:
(19 comments, 350 words in story) There's More :: Permalink :: Comments
Via Marcy Wheeler at Next Hurrah, Scooter Libby has added another lawyer to his defense team, Greg Poe of Robbins, Russell. Laurence Robbins joined earlier to assist with sentencing and appeal issues.
Marcy thinks Poe has been added to try and get Libby out of serving his two year supervised release term. I suspect she's right, although I would expect him to stay on for the duration of Libby's appeal.
I'm going to switch hats again here, and go from bashing Libby's commutation (for which I blame Bush not Libby) to praising defense lawyers such as Libby's latest addition who in the ordinary course of their practice challenge mandatory minimums and the unfairness of the Sentencing Guidelines.
More...
(12 comments, 1210 words in story) There's More :: Permalink :: Comments
There is a lot of media chatter about Rep. John Conyers' decision to hold hearings next week into the use of the Presidential pardon power, including Bush's commutation of Scooter Libby's sentence. TChris wrote earlier about Tony Snow's uninformed reaction. There's also a lot of chatter and criticism about President Clinton's pardon of Marc Rich.
Since the Rich pardon and the congressional hearings about it occurred several years ago, I decided to do a little research. Here's the transcript of the second Congressional hearing into President Clinton's pardon of Marc Rich.
I think it's significant that President Clinton waived executive privilege for the hearing and allowed his aides who participated in the Rich pardon discussion to testify, no holds barred.
Will Bush do the same next week?
More...
(23 comments, 1585 words in story) There's More :: Permalink :: Comments
Responding to news that Rep. John Conyers has scheduled a hearing on President Bush's commutation of Scooter Libby's prison sentence, Tony Snow asked: "And while he's at it, why doesn't he look at January 20th, 2001?," referring to President Clinton's pardon of Marc Rich. But why, Mr. Snow, should Congress take a second look at the Rich pardon? Do you not recall that the Senate Judiciary Committee held a hearing on the Rich pardon less than a month after it occurred?
If the Rich pardon was worthy of a hearing, what's the objection to giving the Libby commutation similar scrutiny?
Update (7/6/07) (TalkLeft): Lots more on this here and at Think Progress here. Also check out Dan Froomkin today, The Clinton-Did-It Flimflam.
(12 comments) Permalink :: Comments
Scooter Libby paid his $250,000.00 fine today. A "source close to Libby" says he paid it with his personal funds, not with money from his legal fund.
He had no choice but to pay the fine now. On June 22, Judge Reggie Walton had ordered him to pay it immediately. (See page 7 of the Judgment in a Criminal Case. (pdf))
Update: Here's a new Dan Froomkin column. I think he's been providing the most thorough MSM coverage on the commutation.
And Tony Snow has an op-ed on Libby and Bush in USA Today. He still doesn't get it. No one is complaining that Bush grants too many pardons. He's far too stingy with them. The problem is when he does make a clemency decision, it's for one of his cronies.
By the way, getting Bush clemency figures since 2001 is no simple task. They are carefully guarded and don't appear on any government website. The folks at the Rehabilitated Project say they have them and have posted them here.
(5 comments) Permalink :: Comments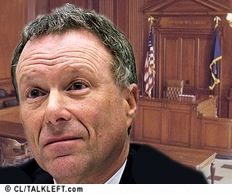 As Judge Walton decides whether his order placing Scooter Libby on supervised release can stand in face of the commutation, I thought a primer on supervised release and on the specific conditions Judge Walton imposed on Libby (court order here, pdf) might be useful.
[Cross-posted at Firedoglake.]
More...
(8 comments, 1258 words in story) There's More :: Permalink :: Comments