Tag: NSA Warrantless Surveillance
The Second Circuit Court of Appeals has ruled the NSA's warrantless mass call tracking program under which Verizon collected phone records of all of its customers is illegal -- it violates Section 215 of the Patriot Act.
At issue was a FISA Court order requiring Verizon to turn over on "an ongoing daily basis" phone call details. The details included whom calls are placed to and from, when those calls are made, and how long they last. The order is here.
The case is ACLU v. Clapper. Today's 100 page decision is here.[More...]
(2 comments, 185 words in story) There's More :: Permalink :: Comments
The House today passed the USA Freedom Act -- after stripping it of several critical reform provisions.
The bill was intended to end the NSA's bulk collection of our phone records. Instead, the bill is ambiguous at best, and at worst, can be viewed as codifying the NSA's authority for bulk record collection. A coalition of tech companies, including FB, Google and Yahoo, warn "the revised version creates an "unacceptable loophole that could enable the bulk collection of internet users' data."
The version that passed the House contains changed definitions, weakens the reforms to Section 702 of FISA, and has no provision for introducing a special advocate in the FISA Court.
[More...]
(18 comments, 396 words in story) There's More :: Permalink :: Comments
Check out the latest from The Intercept (Ryan Devereaux, Glenn Greenwald and Laura Poitras), Data Pirates of the Carribean, on an NSA and DEA program called "SomalGet", which is part of MYSTIC.
NSA and the DEA have been recording every phone call in the Bahamas without the knowledge of the Bahamian government.
[The NSA] appears to have used access legally obtained in cooperation with the U.S. Drug Enforcement Administration to open a backdoor to the country's cellular telephone network, enabling it to covertly record and store the "full-take audio" of every mobile call made to, from and within the Bahamas – and to replay those calls for up to a month.
The program has also been used in Mexico, the Philippines, and Kenya.
[W]hile MYSTIC scrapes mobile networks for so-called "metadata" – information that reveals the time, source, and destination of calls – SOMALGET is a cutting-edge tool that enables the NSA to vacuum up and store the actual content of every conversation in an entire country.
Here is a 2012 memo written by an official in the NSA's International Crime & Narcotics division describing the program. [More....]
(1 comment, 445 words in story) There's More :: Permalink :: Comments
David Cole in the New York Review of Books has a new article, "We Kill People for Metadata" on the mistaken notion that the NSA's collection of metadata in its pursuit of terrorists is no big deal because it does not collect the content of communications, only details about them. First he quotes NSA counsel Stewart Baker:
"Metadata absolutely tells you everything about somebody's life. If you have enough metadata, you don't really need content."
He then quotes General Michael Hayden, former director of the NSA and the CIA:
"We kill people based on metadata."
[More...}
(10 comments, 1715 words in story) There's More :: Permalink :: Comments
The Guardian and Washington Post have won gold medal Pulitzer Prizes for their coverage of the National Security Agency's secret electronic surveillance program. The announcement is here. The full list of winners, with citations, is here.
For a distinguished example of meritorious public service by a newspaper or news site through the use of its journalistic resources, including the use of stories, editorials, cartoons, photographs, graphics, videos, databases, multimedia or interactive presentations or other visual material, a gold medal.

Awarded to The Washington Post for its revelation of widespread secret surveillance by the National Security Agency, marked by authoritative and insightful reports that helped the public understand how the disclosures fit into the larger framework of national security.
[More....]
(2 comments, 172 words in story) There's More :: Permalink :: Comments
President Obama today released his reforms to the NSA's bulk data collection program.
ACLU Executive Director Anthony Romero said the changes are welcome, but don't go far enough:
The president should end – not mend – the government's collection and retention of all law-abiding Americans' data. When the government collects and stores every American's phone call data, it is engaging in a textbook example of an 'unreasonable search' that violates the Constitution. The president's own review panel recommended that bulk data collection be ended, and the president should accept that recommendation in its entirety."
Here is Obama's Policy Directive . The fact sheet is here. [More}
(5 comments, 175 words in story) There's More :: Permalink :: Comments
Der Spiegel has several feature articles this week on the NSA's backdoor program TAO, which stands for "Tailored Access Operations."
This is the NSA's top operative unit -- something like a squad of plumbers that can be called in when normal access to a target is blocked.

According to internal NSA documents viewed by SPIEGEL, these on-call digital plumbers are involved in many sensitive operations conducted by American intelligence agencies. TAO's area of operations ranges from counterterrorism to cyber attacks to traditional espionage.
[More...]
(28 comments, 613 words in story) There's More :: Permalink :: Comments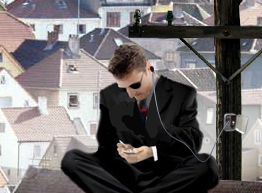 A federal judge in the District of Columbia has granted a request for a preliminary injunction against the NSA preventing them from bulk collecting and querying of telephone record metadata, finding it likely violates the Fourth Amendment.
The opinion is here.
In a 68-page ruling, Judge Richard J. Leon of the District of Columbia called the program's technology "almost Orwellian" and suggested that James Madison, the author of the Constitution, would be "aghast" to learn that the government was encroaching on liberty in such a way.

"I cannot imagine a more 'indiscriminate' and 'arbitrary' invasion than this systematic and high-tech collection and retention of personal data on virtually every single citizen for purposes of querying and analyzing it without prior judicial approval," Judge Leon wrote. "Surely, such a program infringes on 'that degree of privacy' that the founders enshrined in the Fourth Amendment."
[More...]
(43 comments, 525 words in story) There's More :: Permalink :: Comments
The FISA Court today released the August 29, 2013 opinion by FISA Court Judge Claire Eagen finding the NSA's mass telephony data program is constitutional and statutorily permissible.
The opinion is here.
[B]ecause there is no cognizable Fourth Amendment interest in a telephone company's metadata that it holds in the course of its business, the Court finds that there is no Constitutional impediment to the requested production.
[More...]
(19 comments, 1076 words in story) There's More :: Permalink :: Comments
Via the Guardian: Edward Snowden's latest contribution to letting the world know what the U.S. Government doesn't want you to know: XKeyscore.
Analysts can also use XKeyscore and other NSA systems to obtain ongoing "real-time" interception of an individual's internet activity.

....One top-secret document describes how the program "searches within bodies of emails, webpages and documents", including the "To, From, CC, BCC lines" and the 'Contact Us' pages on websites".
[More...]
(20 comments, 266 words in story) There's More :: Permalink :: Comments