Tag: Republican National Convention 2008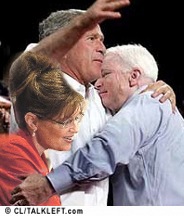 Here's an open thread for comments related to the Republican National Convention.
It also gives me another excuse to remind commenters that this site supports the Democratic ticket and comments expressing support for McCain/Palin or opposition to Obama/Biden are limited to four per 24 hour period. Our comment rules are here.
Also, personal attacks (and unsubstantiated rumors of a personal nature) on any of the candidates or other commenters or the authors of this site are not allowed period.
(76 comments) Permalink :: Comments