Tag: Scooter Libby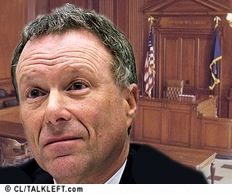 Scooter Libby can vote again. The Governor of Virginia's list of pardons, clemencies and restoration of rights for 2012 is contained in this report of the Virginia legislature, released Feb. 23. Libby's rights were restored in November, 2012.
Virginia's rules for restoration or rights are here.
Libby's prison sentence was commuted by then President G.W. Bush in 2007, hours after his request for an appeal bond was denied by the Court of Appeals, meaning he'd have to go to prison while waiting for the appeal decision. Many people, myself included, saw the commutation as total disrespect for the law. [More....]
(11 comments, 812 words in story) There's More :: Permalink :: Comments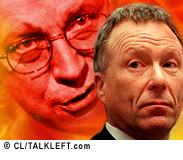 CREW announced today that the FBI released notes (pdf)of former Vice-President Dick Cheney's FBI interview on the leak of Valerie Plame's identity, purusant to its FOIA lawsuit. In the interview, Cheney is critical of the CIA.
Cheney could not recall 22 things, including, whether he had ever told Scooter Libby about Valerie Plame. Via Mother Jones, A list is below: [More....]
(10 comments, 721 words in story) There's More :: Permalink :: Comments
Marcy Wheeler at Empty Wheel dissects the article in Time Magazine about the waning days of Bush and Cheney, as it relates to the Scooter Libby non-pardon. Cheney pleaded and cajoled for his buddy, Bush didn't want to give him any more breaks than the sentence commutation he had already ordered.
But the fight over the pardon was also a prelude to the difficult questions about justice and national security inherited by the Obama Administration: How closely should the nation examine the actions of government officials who took steps — legal or possibly illegal — to defend the nation's security during the war on terrorism? The Libby investigation, which began nearly six years ago, went to the heart of whether the Bush Administration misled the public in making its case to invade Iraq. But other Bush-era policies are still coming under legal scrutiny. [More...]
(11 comments, 489 words in story) There's More :: Permalink :: Comments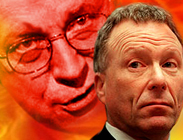 The New York Daily News reports that aides to Dick Cheney are saying he's really angry that Bush wouldn't give Scooter Libby a full pardon and kept the pressure on Bush until the last minute.
After repeatedly telling Cheney his mind was made up, Bush became so exasperated with Cheney's persistence he told aides he didn't want to discuss the matter any further. The unsuccessful full-court press left Cheney bitter. "He's furious with Bush," a Cheney source told The News. "He's really angry about it and decided he's going to say what he believes."
[More...]
(27 comments, 254 words in story) There's More :: Permalink :: Comments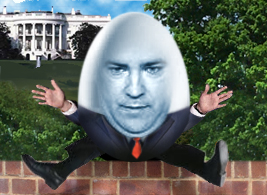 Former White House Press Secretary Scott McClellan has agreed to testify before the House Judiciary Committee on June 20th about the leak of Valerie Plame's identity.
He will be asked about Dick Cheney's role.
President Bush's former spokesman, Scott McClellan, will testify before a House committee next week about whether Vice President Dick Cheney ordered him to make misleading public statements about the leaking of CIA agent Valerie Plame's identity.

In his new book, "What Happened: Inside the Bush White House and Washington's Culture of Deception," McClellan said he was misled by others, possibly including Cheney, about the role of I. Lewis "Scooter" Libby in the leak. McClellan has said publicly that Bush and Cheney "directed me to go out there and exonerate Scooter Libby."
McClellan is represented by Michael Tigar and his wife, Jane Tigar. Doesn't get much better than that. (Update: Jason Leopold has more on McClellan at the Public Record.)
(67 comments) Permalink :: Comments
Via Christopher Bateman at Vanity Fair: In his tell-all book about the Bush Administration, former Press Secretary Scott McClellan has harsh words for President Bush's commutation of Scooter Libby's prison sentence in the Valerie Plame leaks case:
It's … clear to me that Scooter Libby was guilty of the perjury and obstruction crimes for which he was convicted. When the president commuted Libby's prison sentence and thereby protected him from serving even one day behind bars, I was disappointed. This kind of special treatment undermines our system of justice…. President Bush certainly has the right and the power to commute Libby's sentence. But in choosing to do so, he sent an unfortunate message to America and the world—that in the United States criminal behavior on behalf of a political cause may go unpunished if those who support that cause have the power to make it happen.
At the time, John McCain agreed with Bush: [More...]
(32 comments, 216 words in story) There's More :: Permalink :: Comments
I. Lewis "Scooter" Libby was disbarred today. The court said he perjury conviction was a crime of moral turpitude.
The former White House aide was found guilty a year ago of obstruction of justice and lying. Those are considered crimes involving "moral turpitude" that under the law require disbarment, the District of Columbia Court of Appeals ruled.

The court had previously suspended Libby from the practice of law in Washington. President George W. Bush in July commuted Libby's 2-1/2-year prison sentence, enraging Democrats who accused Bush of abusing his power.
Libby did not challenge the disbarment.
(14 comments) Permalink :: Comments
The intrepid reporter Murray Waas has a new article in the National Journal exposing what transpired at the grand jury investigating the leak of the identity of former CIA operative Valerie Plame.
In attempting to determine Libby's motives for allegedly lying to the FBI and a federal grand jury about his leaking of Plame's CIA identity to journalists, federal investigators theorized from the very earliest stages of the case that Libby may have been trying to hide Cheney's own role in encouraging Libby to discredit Wilson, according to attorneys involved in the case.
Key among the details is the July 12, 2003 plane trip that Cheney, Libby and Cheney aide Cathie Martin took to Norfolk. I wrote some extensive posts on it here and here.
Murray theorizes, as have many others, myself included, that Libby may have lied to the grand jury to protect Cheney. Murray writes that a senior official has confirmed to him in an interview:
(14 comments, 426 words in story) There's More :: Permalink :: Comments