Tag: detention centers
Back in 2005 I wrote Welcome to America, It Will Only Cost You a Leg , about Moises Carranza-Reye, an immigrant from Mexico who came to Colorado looking for work. He ended up in a county jail on an immigration hold, where he lost a lung and part of a leg after developing a streptococcus infection.
He sued in federal court, and today his lawyer announced a settlement. Carranza-Reye will receive 1.5 million dollars.
About the Park County Jail:
Park County Jail...houses alien detainees under a contract with U.S. Immigration and Customs Enforcement (ICE).....[It] takes in immigration detainees and overflow inmates from other counties and the state prison system, charging $45 a day per prisoner; "This jail is a revenue-generator for the county," says Colorado Springs attorney Lloyd Kordick. "They're actively advertising for customers. They're also trying to minimize their costs, and they really didn't care about the consequences."
The treatment Carranza-Reyes and the other detainees received will make you sick: [More...]
(25 comments, 555 words in story) There's More :: Permalink :: Comments
Among the provisions of the compromise immigration bill is one calling for the building of more detention camps.
SEC. 137. INCREASE OF FEDERAL DETENTION SPACE AND THE UTILIZATION OF FACILITIES IDENTIFIED FOR CLOSURES AS A RESULT OF THE DEFENSE BASE CLOSURE REALIGNMENT ACT OF 1990.

a) Construction or Acquisition of Detention Facilities-

(1) IN GENERAL- The Secretary shall construct or acquire, in addition to existing facilities 1 for the detention of aliens, at least 20 detention facilities in the United States that have the capacity to detain a combined total of not less than 20,000 individuals at any time for aliens detained pending removal or a decision on removal of such aliens from the United States subject to available appropriations.
I'll be commenting on other provisions as I read through them.
(20 comments) Permalink :: Comments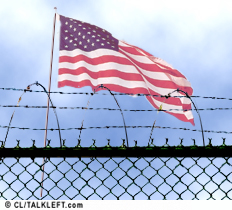 What holds 400 illegal immigrants from 30 countries, 170 of them children? The T. Don Hutto Family Detention Center, for which the Corrections Corporation of America receives $2.8 million per month.
A jail by any other name is still a jail. A detention camp is still a detention camp. That the prisoners wear scrubs instead of orange jumpsuits or pink underwear doesn't change a thing.
The Government invited the media today. Surprise, for the first time there was pizza on the menu. How humane. They brought in plastic potted plants to warm up the place. The Government says its more like a community college than a jail.
What a farce. Can the "students" leave? Of course not. It's a jail.
More...
(25 comments, 224 words in story) There's More :: Permalink :: Comments