Tag: immigraation raids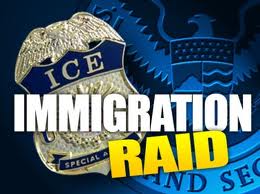 In what is believed to be a first for an immigration court in Denver, a judge has found ICE agents broke the law during an immigration raid. The evidence was ordered suppressed and removal proceedings were dismissed.
Andrew Travers at the Aspen Daily News has a good recap of what happened. The press release is here, and the court's 13 page ruling blasting the ICE agents is here (Major thanks to Andrew for getting me the opinion, I had searched everywhere. Even Lexis didn't have it.)
Before 6:00 a.m., on March 24, 2009, ten ICE agents, led by Special Agent Steve Turza, surrounded a cabin believed to house undocumented workers. Shouting that there had been a highway accident outside, the agents went to 4 bedrooms on 3 floors and rousted the sleeping occupants with flashlights and the terrifying news of an accident. The agents claimed they were the police and forced their way into the bedrooms.
Only there was no accident, the ICE agents had no authority to enter the house. 9 sleeping adults and 3 children were roused and rounded up, and 8 of the adults arrested and taken to an immigration detention facility. [More...]
(8 comments, 1266 words in story) There's More :: Permalink :: Comments