Tag: military tribunals
An accuser's motive to lie might be apparent to the accused, but what happens when the accused isn't allowed to learn the accuser's identity? Despite the administration's assurances that Guantánamo detainees will receive fair trials, Omar Ahmed Khadr will begin his trial with a significant handicap: he won't know who will be testifying against him.
Defense lawyers preparing for the war crimes trial of a 21-year-old Guantánamo detainee have been ordered by a military judge not to tell their client — or anyone else — the identity of witnesses against him, newly released documents show.
The right to confront witnesses is essential to a fair trial. How can a detainee's exercise of that right be meaningful when the detainee doesn't even know who the witness is?
Defense lawyers say the order would hamper their ability to build an adequate defense because they cannot ask their client or anyone else about prosecution witnesses, making it difficult to test the veracity of testimony.
In the administration's view, the vague fear of "terrorist retaliation" against their anonymous witnesses outweighs the accused's right to know the identity of his accuser. So much for the empty promise of fair trials for the Guantánamo detainees.
(33 comments) Permalink :: Comments
Omar Khadr, the young Canadian Gitmo detainee whose charges were dismissed in early June because the judge ruled he had not been properly designated an enemy combatant, will not have his charges reinstated.
A military panel had declared Khadr an "enemy combatant" but Brownback said that did not meet the strict definition of the law that authorized the tribunals.

He said the distinction was critical because international law requires other types of trial for captives who are considered "lawful enemy combatants."

"The term 'unlawful' is not excess baggage, and it is not mere semantics, it is a critical predicate to jurisdiction," Brownback wrote in the ruling.
Canadian news has this in depth profile of the Khadr family. In 2005, the Toronto Star reported Omar's alleged torture while at Guantanamo.
(50 comments) Permalink :: Comments
Scotus Blog reports that in a change not seen since 1968, the Supreme Court has reversed course in two Guantanamo cases. Months ago it denied the detainees' Petitions for Writ of Certiorari, refusing to accept their cases.
Today, by a ruling of at least 5 to 4, which is required for such a change, the Court reversed itself and said it will hear the appeals.
The Court's order is reprinted below:
(2 comments, 491 words in story) There's More :: Permalink :: Comments
Omar Khadr is the teenager who was captured and brought to Guantanamo at age 15. (Background here.)
His case came before the military tribunal at Guantanamo today and the Judge dismissed the charges on jurisdictional grounds.
The stunning ruling by Army Col. Peter Brownback came just minutes into Khadr's arraignment, in which he faced charges he committed murder in violation of the law of war, attempted murder in violation of the law of war, conspiracy, providing material support for terrorism and spying.

"The charges are dismissed without prejudice," Brownback pronounced as he adjourned the proceeding.
The reason:
Khadr had been classified as an "enemy combatant" by a military panel years earlier at Guantanamo Bay, but because he was not classified as an "alien unlawful enemy combatant," Brownback said he had no choice but to throw the case out.

The Military Commissions Act, signed by President George W. Bush last year after the U.S. Supreme Court threw out the previous war-crimes trial system, says specifically that only those classified as "unlawful" enemy combatants can face war trials here.
More...
(25 comments, 432 words in story) There's More :: Permalink :: Comments
The first Guantanamo military commission proceeding is set to begin Monday with the arraignment of Australian David Hicks. He will be called upon to enter a plea of guilty or not guilty to providing material support to terrorists. He was originally charged with three charges of attempted murder, conspiracy and aiding the enemy, but those charges were dropped.
Today, David McLeod, his Australian lawyer said a plea deal is a possiblility.
Asked how Hicks would plead at tomorrow's arraignment McLeod said: ``That remains to be seen''.
More....
(1 comment, 562 words in story) There's More :: Permalink :: Comments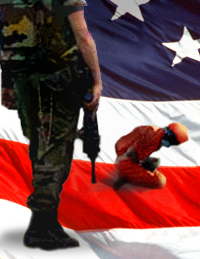 Say hello to The "Habeas Corpus Restoration Act of 2007" and "Restoring the Constitution Act of 2007."
Introduced last week Rep. Jerrold Nadler (D-NY) and Jane Harman (D-CA) respectively, the bills would restore habeas and other rights to the detainees at Guantanamo.
The ACLU welcomes the bills.
The "Habeas Corpus Restoration Act of 2007" mirrors a bill, S. 185, offered in the Senate by Senators Patrick Leahy (D-VT) and Arlen Specter (R-PA), the chairman and ranking member of the Senate Judiciary Committee. This bill would restore habeas corpus for those detained by the American government.

The "Restoring the Constitution Act of 2007" would also reinstate habeas rights and clarify the definition of "enemy combatants." Additionally, it would block the federal government from making up its own rules on torture. The Geneva Conventions have governed American behavior during war for decades. The bill makes clear the federal government must comply with the Conventions, and no one in the federal government - not even the president -- can make up their own rules on torture and abuse.
More...
(1 comment, 279 words in story) There's More :: Permalink :: Comments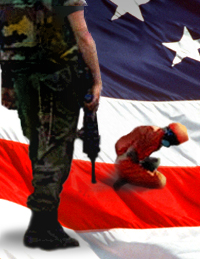 After 5 years in captivity at Guantanamo, Australian David Hicks was charged with a terror crime Thursday, for which he will face trial by military tribunal.
A charge of attempted murder was rejected, and Hicks will be tried for the catch-all crime of providing material support to terrorists.
Under the Military Commissions Act, Hicks must be arraigned within 30 days and a military judge will have 120 days to form the military commission.
As to the specific acts Hicks is believed to have committed:
(2 comments, 482 words in story) There's More :: Permalink :: Comments