Tag: protesters
Amy Goodman of Democracy Now was arrested in Minneapolis today. According to the description of the video, she and two others are charged with conspiracy to riot. According to Coldsnaplegal, she was pepper-sprayed while handcuffed.
(107 comments) Permalink :: Comments
The protests in Denver began today. There was some attempt by protesters to block streets. It was peaceful with little resemblance to protests of conventions past.
What happened instead was a street-fair display of disparate causes, from anti-war fervor to climate control, immigrant rights and the legalization of marijuana. Participants paraded through the streets of downtown Denver peacefully as police — aided by the Secret Service,

FBI

and National Guard — kept watch from bikes, rooftops and helicopters.
Cindy Sheehan and Recreate '68 began the morning with a protest event on the steps of the state capitol in Denver. Later, there was a march from Civic Center Park to the Pepsi Center.
Cindy Sheehan spoke as did Glenn Spagnuolo of Recreate '68, Ron Kovic and the rap duo Dead Presidents. Recreate '68 had its own security guys at the base of the Capitol steps, wearing red bandannas. [More...]
(17 comments, 446 words in story) There's More :: Permalink :: Comments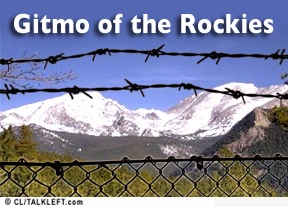 Who knew what they were thinking when they built the makeshift warehouse jail cells for those arrested during the Democratic National Convention, but at least they've scrapped one bad idea.
The razor wire covering the cells is being removed. Chain link fence coverings will be used instead. Also:
Sixty people an hour can be processed at the building, where cameras are set up to take mug shots alongside computerized fingerprinting stations.

A table holds six telephones, and two portable air-conditioning units each the size of a small truck pump cool air into the building. Each cell will contain 20 chairs. A sign posted on a steel column warns: "Electric stun devices used in this facility."
Anyone arrested in East Denver, not just protesters, will be transported to "Gitmo on the Platte."
(35 comments) Permalink :: Comments
Denver police officials have released more details on the warehouse detention facility that has been built to hold arrestees should there be mass protester arrests at the Democratic convention.
The arrest-processing center will operate from Aug. 24 to 31 and will be able to detain up to 400 people for short periods of time. The facility also will be able to process about 60 prisoners an hour.
It is expected that those arrested will only be held there for a few hours before being bused to their next stop: the courthouse.
There are a few wrinkles with this plan protesters should be forewarned about. [More...]
(14 comments, 416 words in story) There's More :: Permalink :: Comments
Welcome to Gitmo of the Rockies, or as Denver locals are calling it, Gitmo on the Platte (for the nearby Platte River.)
Denver's CBS4 News reporter Rick Salinger scores an exclusive on Denver's plans for arrested protesters in the event of mass arrests -- as proof, he and his camera people got inside and shot this video before being asked to leave.
The facility is a city owned warehouse.
Inside are dozens are metal cages. They are made out of chain link fence material and topped by rolls of barbed wire.

"This is a secured environment," Capt. Frank Gale of the Denver Sheriff's Department told CBS4. "We're concerned about how that's going to be utilized by people who will be potentially disruptive."
More....
(30 comments, 396 words in story) There's More :: Permalink :: Comments
Denver officials announced today that the protest zone for Invesco Field where Sen. Barack Obama will deliver his nomination acceptance speech will be in the parking lot. The lot will be fenced.
The fenced-in area will be about 53,000 square feet in Lot J. Delegates entering the convention will pass by the area from between 200 and 400 feet away after they are dropped off for the night's speech by Sen. Barack Obama.

Protesters will be allowed to use bullhorns, and the city will provide a stage, amplification equipment, and at least two speakers that will be located outside the zone and pointing toward Invesco Field at Mile High.
Here's the map (pdf) showing Lot J.
In related news, the protesters are offering Denver a "doo doo accord" (pdf copy here) and yes, it's just what it sound like -- it's in reponse to the City Council's upcoming final consideration of a law banning protesters from carrying buckets of the human stuff.
(83 comments) Permalink :: Comments
The City and County of Denver and the ACLU have reached a partial agreement with respect to a lawsuit filed by the ACLU of Colorado seeking details of security purchases made by police for the Democratic National Convention. Denver has now provided details of the $18.2 million spent to date and those planning on protesting can rest a little easier:
The city also announced today that none of the equipment purchases include nonlethal weapons that discharge "slime" or "goo" to immobilize persons or vehicles or that use microwaves or sonic waves to induce pain or discomfort in targets.
The ACLU was relieved -- so much so that it agreed to wait until the convention is over to decide whether to return to court and seek more information.
Denver also disclosed that the police have no "mandatory arrest" policy -- meaning there is no list of offenses that will require arrest rather than the issuance of a citation.[More...]
(13 comments, 916 words in story) There's More :: Permalink :: Comments
SWAT (Security with Advanced Technology) has let the cat out of the bag on some of the weapons purchased by the Denver Police Department for the August Democratic Convention:
Security With Advanced Technology, Inc. (NasdaqCM:SWAT - News) reported that its Veritas Tactical business segment has received a purchase order from the City and County of Denver, for the Company's recently introduced rifle launcher and pistol launcher as well as projectiles and associated accessories.
More...
(91 comments, 497 words in story) There's More :: Permalink :: Comments