Tag: recess appointments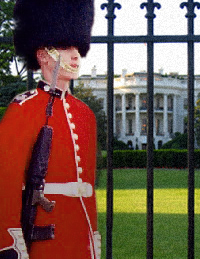 Our imperial president is up to his usual tricks.
President Bush today made three controversial recess appointments, bypassing the need for Senate confirmation.
The president used recess appointments to install Sam Fox, a major Republican donor from Missouri, to be ambassador to Belgium; Andrew G. Biggs of New York to be deputy commissioner of Social Security, and Susan E. Dudley of Virginia to be administrator of the Office of Information and Regulatory Affairs at the office of Management and Budget.
One, Sam Fox, was a financier of the Swift Boat circus against John Kerry. The Administration had withdrawn his nomination in March.
More...
(37 comments, 456 words in story) There's More :: Permalink :: Comments
As expected, President Bush has appointed John Bolton Ambassador to the U.N. using his recess power of appointment. Here's some initial reaction (received by e-mail):
Sen. Majority Leader Harry Reid:
(WASHINGTON, DC) "At a time when we need to reassert our diplomatic power in the world, President Bush has decided to send a seriously flawed and weakened candidate to the United Nations. It's an unnecessary result, and the latest abuse of power by the Bush White House.

"The reason Bolton is being recess appointed is because the President chose to stonewall the Senate. Mr. Bolton could have had his up or down vote had President Bush given Senators the information they needed. Instead, Bolton arrives at the United Nations with a cloud hanging over his head."
Sen. Russ Feingold:
(30 comments, 295 words in story) There's More :: Permalink :: Comments