Tag: suicide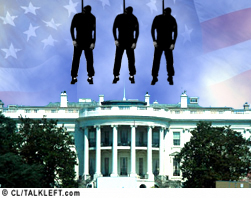 Did Mishal al-Harbi suffer brain damage at Guantanamo because he was beaten in his cell by guards or did he try to hang him himself? The Washington Post tells his story today.
From interviews with many released detainees, a portrait is painted of guards mistreating and withholding the Koran and beating prisoners.
Some of the detainees started refusing to hand over the Koran during searches and went on hunger strikes to protest its mistreatment, Azmi said. They also cursed and screamed at the guards, he said. According to Pentagon transcripts, Mishal once spit at a guard.

It was during this fraught period that Mishal was injured, several days after being transferred to isolation block India, said Hammad Ali, a former detainee from Sudan who was in the same isolation block at the time.
More...
(1 comment, 619 words in story) There's More :: Permalink :: Comments