Tag: Joe Biden 2008
I'm getting ready to head downtown, to the Big Tent, the Streets, the Pepsi Center and to check out CNN's The Grill Room.
I'm glad to see Big Tent Democrat's post that Hillary is asking her supporters to focus on electing the next Democratic President.
I'll be as clear as I can: TalkLeft and all three of its authors, and this week's guest contributor, support the Democratic presidential candidate Barack Obama. I have since the day Hillary dropped out in June, asking readers to respect her and her decision.
Despite my aversion to Sen. Joe Biden on the ticket, keep in mind it's my individual reaction to his decades spent promoting ill-advised and draconian crime legislation. It in no way means that the Democratic ticket isn't the preferred one over the other options in November. [More...]
(203 comments, 273 words in story) There's More :: Permalink :: Comments
I won't be around to hear the news of who Obama picks as his Vice-Presidential candidate if today is the day he chooses to text it to the world.
Here's a place for you to keep each other updated on what happens -- or doesn't happen.
I really hope it is not Joe Biden. But since everyone else seems convinced it is, I've got my i-Pod set to play Don Henley's "The Heart of the Matter" which begins:
I got the call today I didn't want to hear
but I knew that it would come.
Next up: B.B. King and The Thrill is Gone.
My earlier post on the mountain of material Biden will provide McCain for ads belittling both Biden and Obama, is here.
(109 comments) Permalink :: Comments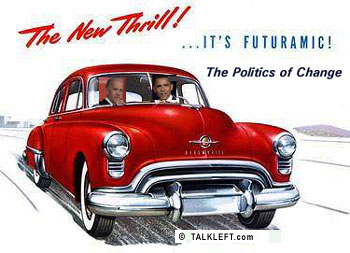 It may be that Sen. Barack Obama texts out his VP choice today. The pundits think it's Joe Biden. Clearly, I hope it's not.
But, what does Biden do for Obama? He gives McCain a wealth of tv commericals to use against him.
Can you just see them now? Biden, saying Obama wasn't ready to be President and the job is "not something that lends itself to on-the-job training."
Or this 20 year old Biden campaign commercial:[More...]
(9 comments, 395 words in story) There's More :: Permalink :: Comments
Chris Cillizza at the WaPo's The Fix puts out his (and I stress the word "his") Friday afternoon line on whom Obama will pick for Veep.
He has Joe Biden in top place and Kathleen Sebelius in bottom place at #5. In between: Jack Reed, Tim Kaine and Evan Bayh. (Big Tent Democrat thinks Obama's smartest move would be to pick Biden. Biden is a dealbreaker for me.)
Gen. Wesley Clark, my favorite, doesn't even make Chris' list.
Who do you think he will pick? Any dealbreakers out there for those of you who are planning on voting for Obama? Anyone who would make you stay home?
I think he will pick Virginia Gov. Tim Kaine. Am I happy about it? No, but I can live with it. Same for Evan Bayh. Sebelius would be better than than either, but he's obviously not going to pick a woman other than Hillary.
(101 comments) Permalink :: Comments