Tag: Libby Trial Coverage
I don't think Bush will make any decision on a pardon for Scooter Libby before Judge Walton rules on the Appeal bond, and if denied, before the D.C. Court of Appeals reviews the bond decision. The White House said as much today.
The White House indicated today Bush will not act before Libby's appeal of his conviction is decided. I think that will take about a year.
Bush always says he doesn't want to interfere with the legal process. So that puts us at about June, 2008. Bush has until his last day in office in January, 2009 to issue the pardon.
More...
(16 comments, 299 words in story) There's More :: Permalink :: Comments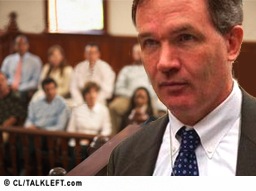 Some new details on the Scooter Libby jury deliberation process:
The jurors wore jeans today. Certainly a sign they knew they weren't going to finish today...otherwise they would have dressed up.
Ted Wells is buying courtroom sketches of himself from the sketch artists. His advice: "Always buy your sketches before the verdict."
Libby's wife, lawyer Harriet Grant and Libby attorney Bill Jeffress hit the park across from the courthouse during the wait to grab a smoke.
Both sides have waiting rooms in the courthouse. The Government's is bigger.
More...
(7 comments, 345 words in story) There's More :: Permalink :: Comments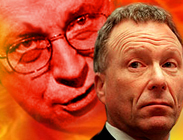 Jason Leopold has reviewed Patrick Fitzgerald's closing argument in the Scooter Libby trial, and points out these comments:
Rebutting the defense's assertion that Cheney was not behind the leak, Fitzgerald told jurors, "You know what? [Wells] said something here that we're trying to put a cloud on the vice president. We'll talk straight. There is a cloud over the vice president. He sent Libby off to [meet with former New York Times reporter] Judith Miller at the St. Regis Hotel. At that meeting, the two hour meeting, the defendant talked about the wife [Plame]. We didn't put that cloud there. That cloud remains because the defendant obstructed justice and lied about what happened."
More...
(29 comments, 960 words in story) There's More :: Permalink :: Comments
Former prosecutor Victoria Toensing has an op-ed in the Washington Post today (debunked nicely by Larry Johnson) outlining her case for Scooter Libby's acquittal. In two words: jury nullification.
(Thanks, Victoria, for attempting to personally smear the prosecutor on the eve of closing arguments. I bet if a true criminal defense lawyer wrote an article like that you'd accuse him or her of trying to influence the jury pool.)
Toensing is playing to the court of public opinion here, not the court of law. By setting forth her grounds for indicting others in the case, she's advocating exactly what Patrick Fitzgerald has said he's on guard against: the defense playing the jury nullification card, arguing that it's not fair Libby was charged while others weren't.
I don't think Team Libby is going to make that argument, at least not directly. They know Patrick Fitzgerald would repeatedly interrupt Wells' closing to object and there's few things worse than losing your rhythm and the jury's undivided attention in closing because of objections from the other side.
More...
(18 comments, 1071 words in story) There's More :: Permalink :: Comments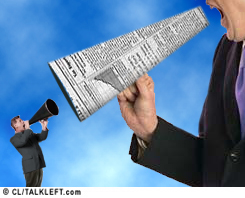 What a welcome surprise. The Dallas Morning News has not only been reading the blog coverage of the Scooter Libby trial, it has been doing a few wrap-ups with quotes from many of the bloggers.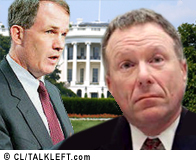 As discussed here, Team Libby filed a new theory of defense instruction Thursday it wants the jury to consider.
In Fitz' final verdict brief, he objects to this portion:
Further, Mr. Libby was well aware when he was first interviewed by the FBI and when he testified to the grand jury that the investigators could and likely would talk to government officials and the journalists he spoke with concerning Ambassador
Wilson and that those officials and journalists would truthfully recount their recollections of the conversations he had with them.
More...
(344 words in story) There's More :: Permalink :: Comments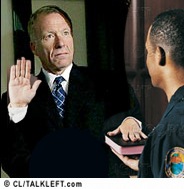 In preparation for Tuesday's closing arguments, it may be helpful to distill the charges and alleged lies of Scooter Libby, from the Government's point of view, since it has the burden of proof. In subsequent posts, I'll look at the defense arguments and the points of contention that still exist over jury instructions.
Note, this series of posts is not sexy. They are dry and may not be of interest to anyone not closely following the legal aspects of the case.
There are five counts against Libby. The first is obstruction of justice. Counts two and three are false statements to federal investigators in the fall of 2003; Counts four and five allege perjury before the grand jury in March, 2004.
Yesterday, the Government filed this brief outlining its position on the verdict forms the jury should receive as to counts 1, 2 and 5.
According to the Government, to convict Libby of obstruction of justice, it must unanimously conclude at least one of these statements which Libby made to the grand jury is false:
More...
(1590 words in story) There's More :: Permalink :: Comments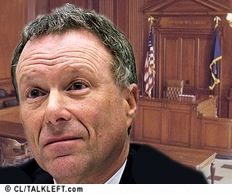 The pleadings flew hot and heavy this weekend over whether Andrea Mitchell will testify at the Scooter Libby trial. Fitzgerald's latest is here and Libby's is here.
Fitzgerald is trying to block Mitchell's testimony. He doesn't want Libby to question her about this statement that she made on Capitol Report on October 3, 2003.
MURRAY: And the second question is: Do we have any idea how widely known it was in Washington that Joe Wilson's wife worked for the CIA?

MITCHELL: It was widely known among those of us who cover the intelligence community and who were actively engaged in trying to track down who among the foreign service community was the envoy to Niger. So a number of us began to pick up on that. But frankly I wasn't aware of her actual role at the CIA and the fact that she had a covert role involving weapons of mass destruction, not until Bob Novak wrote it.
Andrea Mitchell has since disavowed the statement, saying she was confused, or it was taken out of context, or she was just wrong. Here's one of her explanations:
(13 comments, 838 words in story) There's More :: Permalink :: Comments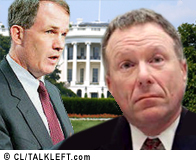 I'm leaving Sunday to go back to Washington for week one of the Defense case in the Scooter Libby trial. Thanks to Arianna and Huffington Post, I have a media room pass and will be live-blogging the testimony at Huffpo and providing analysis there and here, Monday, Tuesday and Wednesday.
I'm excited to be going back. Covering the trial from Denver this past week just wasn't the same as being there. I'm also scheduled to return Feb. 20 - 22 for MediaBloggers, if the trial is still going on.
The only downside is the expense, particularly staying in a hotel this trip as the Plame House is full. If you passed on contributing to my first trip, but liked my coverage, it would be great if you'd throw a few dollars in the pot. Here's how.
If you'd rather donate anonymously, please use Amazon here.
T.Chris is in New York this weekend but will be back blogging on other topics next week, and Big Tent Democrat and some diarists may be around, so we won't be all Libby, all the time.
This post will stay on top for a day, but scroll down, there's lots of new posts.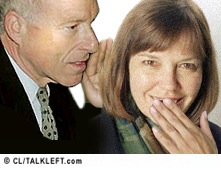 Thanks to Tom Maguire for pointing this out. After Judith Miller's testimony, Libby lawyer Ted Wells told the judge he would be moving for a judgment of acquittal on a count pertaining to her. He didn't explain it at the time. Neil Lewis of the New York Times writes:
The Libby defense won a victory of sorts when Judge Reggie B. Walton agreed to exclude part of one of the five felony counts against Mr. Libby. But it remained unclear whether the change, which was not contested by the prosecutors, would matter in jury deliberations.
Tom picks out the part that will be deleted:
(270 words in story) There's More :: Permalink :: Comments

Graphics love to Politics TV.
After hours of more cross-examination of Tim Russert, the prosecution rested today in the Scooter Libby trial. Firedoglake has all the details.
It's hard to know where the defense plans to go — at times they seem to be claiming that Russert had a bad memory, at others that he was lying to cover his ass, and then at still others that he was lying because of malice toward Libby. But it never seemed to come together in some kind of consistent, cohesive view of what happened, and unless they can shake the jury's faith in Russert it's going to be tough to get them to believe Libby's story. The jurors seemed restless and uninterested throughout Wells' cross-examination of Russert, and aside from coming off as a bit of a scum for his First Amendment hypocrisy and his opacity with regard to how easily he gave up Libby's "confidentiality" to FBI agent Jack Eckenrode, he came off as credible.

Team Libby didn't manage to find any chinks in his armor that really seemed to cast much doubt on his really quite simple story about his conversation with Libby.
I guess Wells reverted back to his lumbering style of cross-examination that I witnessed last week. I'm sorry to hear that, not because I'm rooting for Libby but because I like a good,evenly matched trial and I like to see defense lawyers shine.
More....
(12 comments, 450 words in story) There's More :: Permalink :: Comments