Tag: Secret Prisons
The Bush Administration has admitted for the first time using a British territory in its transporting of Ghost Air prisoners as part of its secret rendition program.
The Bush administration is bracing for a diplomatic backlash after conceding it used British territory to transport suspected terrorists on secret rendition flights despite repeated earlier assurances the U.S. had not.

U.S. officials have sought to quell the fallout by apologizing to Britain for what they said was an "administrative error." The admission, however, may reopen a bitter debate between the United States and its allies over how the fight against terrorism should be conducted and compromise future cooperation.
The territory at issue: Diego Garcia.[More...]
(5 comments, 341 words in story) There's More :: Permalink :: Comments
A federal judge in California dismissed a lawsuit filed against a San Jose flight company that alleged the company aided the CIA in transporting detainees to secret overseas prisons. The Court agreed with the Bush Administration that the suit could jeopardize state secrets. The opinion is here (pdf).
U.S. District Judge James Ware in San Jose said he had no authority to decide whether, as three current prisoners and two freed inmates alleged, Jeppesen International Trip Planning colluded with the CIA to violate their rights. The suit instead must be dismissed at the outset because its subject is a secret program that cannot be examined in a public proceeding, Ware said.

Public and confidential declarations filed by CIA Director Michael Hayden show that "proceeding with this case would jeopardize national security and foreign relations," Ware said.
This is the third suit by Ghost Air detainees that has been dismissed.
(3 comments) Permalink :: Comments
The House of Representatives today passed a bill outlawing harsh interrogation methods.
The measure, approved by a largely party-line vote of 222 to 199, would require U.S. intelligence agencies to follow Army rules adopted last year that explicitly forbid waterboarding and require interrogators to adhere to a strict interpretation of the Geneva Conventions on the treatment of prisoners of war. The rules, required by Congress for all Defense Department personnel, also ban sexual humiliation, "mock" executions and the use of attack dogs, and prohibit the withholding of food and medical care.
President Bush said he'd veto the bill, which now goes to the Senate. In related news, the ACLU wrote the Senate today (letter here, pdf)listing ten reasons why a special prosecutor should be appointed to investigate the CIA's destruction of interrogation tapes.
(39 comments, 278 words in story) There's More :: Permalink :: Comments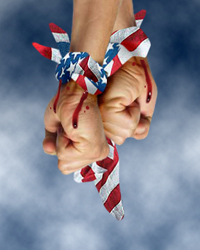 The Washington Post has a disturbing revelation:
In September 2002, four members of Congress met in secret for a first look at a unique CIA program designed to wring vital information from reticent terrorism suspects in U.S. custody. For more than an hour, the bipartisan group, which included current House Speaker Nancy Pelosi (D-Calif.), was given a virtual tour of the CIA's overseas detention sites and the harsh techniques interrogators had devised to try to make their prisoners talk.

Among the techniques described, said two officials present, was waterboarding, a practice that years later would be condemned as torture by Democrats and some Republicans on Capitol Hill. But on that day, no objections were raised. Instead, at least two lawmakers in the room asked the CIA to push harder, two U.S. officials said.
Who were they? [More...]
(16 comments, 796 words in story) There's More :: Permalink :: Comments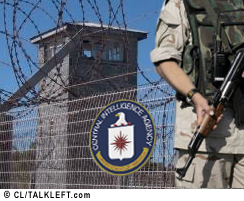 The CIA's destruction of hundreds of hours of videotapes of detainee interrogations could put several prosecutions at risk.
Officials acknowledged on Friday that the destruction of evidence like videotaped interrogations could raise questions about whether the Central Intelligence Agency was seeking to hide evidence of coercion. A review of records in military tribunals indicates that five lower-level detainees at Guantánamo were initially charged with offenses based on information that was provided by or related to Mr. [Abu]Zubaydah. Lawyers for these detainees could argue that they needed the tapes to determine what, if anything, Mr. Zubaydah had said about them.
Think: Khalid Sheik Mohammed and Ramzi Binalshibh. I'm wondering whether it could also result in reversals of the convictions of Zacarias Moussaoui and Jose Padilla.
The known detainees whose interrogation videos were destroyed are Abu Zubaydah and Abd al-Rahim al-Nashiri. Undoubtedly, more will come to light as the investigation proceeds. I won't be surprised if interrogation tapes of Khalid Sheikh Mohammed and Ramzi Binalshibh were also destroyed. In that case, they might be deprived not only of potentially exculapatory information by Zubayah but of their own statements for use at their upcoming military commission trials.
More...
(6 comments, 1484 words in story) There's More :: Permalink :: Comments
Meet Majid Khan.
The first of the so-called high value Guantánamo detainees to have seen a lawyer claims he was subjected to "state-sanctioned torture" while in secret C.I.A. prisons, and he has asked for a court order barring the government from destroying evidence of his treatment.

The request, in a filing by his lawyers, was made on Nov. 29, before officials from the Central Intelligence Agency acknowledged that the agency had destroyed videotapes of interrogations of two Qaeda operatives that current and former officials said included the use of harsh techniques.
An intelligence official denies that Khan was videotaped.
Mr. Dixon, one of Mr. Khan's lawyers, said Saturday that the admission that officials had destroyed videotapes of interrogations showed why such an order was needed.

"They are no longer entitled to a presumption that the government has acted lawfully or in good faith," Mr. Dixon said.
(1 comment) Permalink :: Comments
The Washington Post reports on the CIA's Ghost Air prisoners. Some have been sent to Guantanamo, some were returned to their home countries (some of whom were never heard from again) and some are....missing.
Where are they? Who's keeping track? Human Rights Watch and Reprieve are trying to. According to the Post, HRW says at least 39 of those seized remain unaccounted for.
There's further reading today on this at Alternet: The Bush Era's Dark Legacy of Torture.
(3 comments) Permalink :: Comments
Khaled el-Masri, (also spelled al-Masri) the 42 year old German shoe salesman and father of five who was plucked off a street in Macedonia while on holiday, beaten and flown to a secret CIA prison in Afghanistan where he was held for 5 months until the U.S. and Condoleeza Rice admitted he was picked up by mistake (a case of mistaken identity) has had his lawsuit against the U.S. rejected by the Supreme Court today. Reuters reports here and the AP here.
All of TalkLeft's coverage of el-Masri is accessible here. The ACLU filed the lawsuit on his behalf and has this webpage about extraordinary rendition.
(6 comments) Permalink :: Comments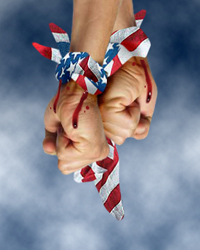 Jane Mayer in The New Yorker Magazine today exposes the torturous interrogation practices the C.I.A. used on its prize detainee, Khalid Sheikh Mohammed, during his not-so secret stay in an overseas prison.
Author Jane Mayer, on the CBS Evening News, said:
"The Red Cross went in and got to interview these people for the first time," said Mayer on the CBS Evening News. "What these people described was hanging from the ceilings by their arms and being water-boarded, partially drowned, put on leashes and knocked into walls and basically deprived of all kinds of sensory imagery for years."
The article also puts the lie to President Bush's continuous insistence that the U.S. does not engage in torture.
Mayer's article further described the CIA program of physical and psychological abuse as completely regimented and deliberate.

"There have always been mistakes made in the past when prisoners have been abused in wars," Mayer told Mitchell. "But this is the first time it's been done on purpose."
More...
(24 comments, 391 words in story) There's More :: Permalink :: Comments
Salon today has an article about another CIA ghost detainee, Abd al-Hadi al-Iraqi, kept in a secret overseas prisons for months, undisclosed to the Red Cross and finally transferred to Guantanamo.
The C.I.A. (read White House) takes the position that these detainees are unlawful combatents and not entitled to protections of the Geneva conventions.
While the U.S. military recently adopted new rules for interrogation in the wake of the Abu Ghraib torture scandal, legal and human rights experts say the CIA may be continuing to flout the law -- potentially using abusive interrogation tactics at secret prisons known as "black sites" -- at the direction of the Bush White House.

Red Cross officials confirmed to Salon that the CIA did not alert them during the months that al-Hadi was a prisoner with the agency. "We have repeatedly asked U.S. authorities to be notified and have access to all detainees, including those held by the CIA," said Simon Schorno, a spokesman for the Red Cross in Washington. "But we did not have access to Mr. al-Hadi before his transfer [to military custody]. For us, that is problematic."
More...
(21 comments, 666 words in story) There's More :: Permalink :: Comments
The Fourth Circuit Court of Appeals has dismissed the lawsuit by wrongly kidnapped and detained (and allegedly tortured) Khaled El-Masri. The opinion is here.
The ACLU may appeal to the Supreme Court. In a statement today, the ACLU says:
Although El-Masri's case has been discussed and investigated throughout the world, the Fourth Circuit Court of Appeals ruled today that it could not be either discussed or reviewed in an American court because of the government's invocation of the "state secrets" privilege.

"Regrettably, today's decision allows CIA officials to disregard the law with impunity by making it virtually impossible to challenge their actions in court," said ACLU Executive Director Anthony D. Romero. "With today's ruling, the state secrets doctrine has become a shield that covers even the most blatant abuses of power."
You can read much more about his case on their website
here
.
More

(3 comments, 415 words in story) There's More :: Permalink :: Comments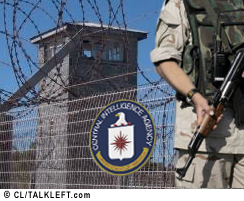 Yesterday I wrote about the new Human Rights Watch report on the missing CIA prisoners who were whisked off to secret prisons on Ghost Air.
Today, the Washington Post publishes its series of interviews with Marwan Jabour, a prisoner seized in 2004 who was released in 2006.
First note: Jabour, HRW and intelligence officials say the number of secret prisoners far exceed the 14 President Bush said were transferred to Guantanamo. HRW has 38 unaccounted for, an intelligence official says more than 60 were held.
On to Jabour's account of his detention and torture. First, there's the "villa at Islamabad."
(1 comment, 928 words in story) There's More :: Permalink :: Comments